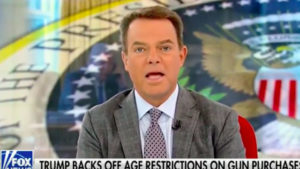 Fox News host Shepard Smith called out President Donald Trump on Monday for backpedaling on his vow to reform gun control.
After publicly stating earlier this month that the National Rifle Association had little power over him, the president tweeted Monday that the White House would support NRA-approved gun control measures, which include arming teachers and a limited expansion of background checks. Trump said there was not "much political support" for raising the age limit to purchase firearms from 18 to 21 years old.
"That's not true," Smith said. "It's just not factually accurate. There is broad-based support for raising the gun age limit."
The Fox News host is right. There's overwhelming public support for the issue, plus Democrats in Congress have been calling for common-sense gun control measures for years. There's not much political support within the Republican Party, and certainly not within the NRA.
The Fox News host suggested the president was pandering to the NRA instead of keeping his promise to students of Parkland, Florida, who survived a deadly mass shooting at their high school last month.
"The president told the kids at Parkland, 'I'll go strong on this, I'll work on this age thing,'" Smith said. "He came up to the general public and said to the Congress, 'Oh, the NRA has a lot of pressure on you, has a lot of effect on you, but not on me so much.' And then he met with the NRA."