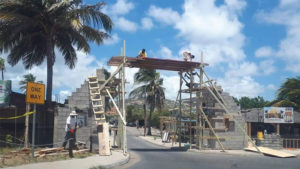 Minister of Tourism Lindsay Grant has confirmed that construction to enhance the popular entertainment area the Frigate Bay Strip, will not be completed before the St. Kitts Music Festival near the end of June.
Traditionally, hundreds of festival patrons throng the beach spots after the event concludes each night. Minister Grant gave the update while speaking at a Music Festival press conference on Monday.
"When we started the continuation of the construction at the Strip we were hopeful we would've been finished around the time of the Music Festival, but that is not the case. We've met up with a number of challenges which we are at he moment ironing out but the work continues.
"I can't say as I speak, when it will be concluded just to say that the first phase has been completed and we're onto the second phase. That would include the entrance and exit façade, the roundabout at the western end, the boardwalk, the washrooms, it would also include a security area for police, and those are well on the way, so we expect by the time they are completes we'll have a fantastic Strip."
Minister Grant also informed that plans are in place to restore Frigate Bay beach to a state where it will once again be a popular venue for beach-goers.
"We've also conducted a survey with some marine surveyors and engineers out of Jamaica to see what we will do in terms of the beach nourishment, because if you recognize -the beach, we're losing some of the ground on the beach."
Construction of the $7 million project at the Frigate Bay Strip began late in 2016 and according to the Minister, will focus on major infrastructure improvements including sewage treatment, improved drainage, roads,parking, entrance features and boardwalks, as well as upgrades to both the lighting and security on the Strip.