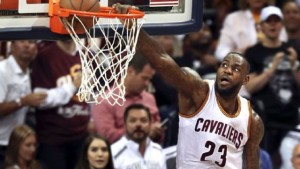 CLEVELAND — Rich Paul — LeBron James' agent, confidant and longtime friend — couldn't fully appreciate what he just saw out of James in the Cleveland Cavaliers' 120-90 throttling of the Golden State Warriors on Wednesday.
Having been a front-row witness for James' splendid career for so many years, Paul has become numb to plays like the one James made late in the third quarter, the definitive Vine/highlight/shareable video term du jour from Game 3 of the NBA Finals.
You know, the one where James blanketed Stephen Curry on defense at the 3-point line like Steph owed him money, leaped to cause a deflection on the two-time MVP's pass in midair as Curry tried to throw it over the top of him, flung forward to beat Curry for the loose ball just past midcourt, fell down onto his hands and knees to corral control of the possession, sprung to his feet and immediately passed it to a streaking Kyrie Irving, filled the lane by running like someone trying to stop a meter maid from writing him a parking ticket and finished the whole shebang by converting Irving's alley-oop by jumping high enough that he could have hit his head on the rim?
Jeff Van Gundy — stationed at the broadcast table facing the courtside seats where Paul and another member of James' inner circle, Maverick Carter, were seated — marveled as ABC showed the replay: "You know what I love? I love watching this — two of his best friends sitting across from us — and no matter what he does, they never cheer." Why the stoicism? "The sad thing is," Paul told ESPN.com, "it's not surprising."
It wasn't just the play Paul was commenting on, but James' night as a whole, a masterful 32-point, 11-rebound, 6-assist, 2-block effort that breathed new life into the Cavs and opened up people's minds once again that maybe, just maybe, these Warriors aren't as unbeatable as their record suggests.
Paul lamenting about James' exploits becoming routine really hits the core of what's so intriguing about these Finals. James has been on the scene so long that his spectacular play has become normal. His foil, Curry, is still the league's shiny new toy, fully embraced by the hype machine and celebrated thusly.
Privately, James continued to express confidence about the Cavs' predicament after falling down an 0-2 hole with Kevin Love sidelined indefinitely, at the whim of the league's concussion protocol after taking a Harrison Barnes forearm to the back of his head.
After the team spent Monday flying cross-country back from San Francisco, James made a late-night visit to the Cavs' practice facility, according to a source, staying until nearly midnight trying to fix a jump shot that was failing him. It worked in Game 3, as he shot 5-for-9 on shots outside the paint, a percentage that looks even better against Curry's 3-for-9 night from 3.
It was a process-oriented approach from James in the days leading up to Game 3, one of those games that become more than just a game. A victory, and the Cavs could keep their season alive and keep their hopes alive of becoming the first team in 52 years to bring a title to Cleveland. A loss, and the series would be all but over, with a storm of speculation about the team's future — Will they trade Love? Will they trade Irving? Will James stick around? — sure to follow.
James avoided that alternate reality Wednesday for himself, for his teammates, setting the tone in the pregame huddle outside the locker room before they took the floor before tipoff. "Follow my lead," James bellowed, "and do your f—ing job!"
There was Irving, filling it up with 30 points and eight assists — matching the Warriors in scoring 16-16 in the first quarter as the Cavs raced out to a 17-point lead. There was J.R. Smith, stroke intact, scoring more (20 points) than either Splash Brother could muster, and also swiping three steals. There was Tristan Thompson grabbing nearly as many offensive rebounds (seven) as the entire Golden State team (eight) as he finished with 14 points and 13 boards. There was the ageless Richard Jefferson filling in for Love with 9 points, 8 rebounds and 2 steals.
And there was James, after the game, not taking credit for any of it. "I didn't change my approach and I didn't take over this game," James said. "Kyrie pretty much took over the game, especially early and late. He closed the game out. He started the game and I just sprinkled in, you know, my production along the whole game."
Irving smirked when James said "sprinkled in," the same way Smith couldn't believe what he was hearing when James was looking at photos of his alley-oop on somebody's phone in the postgame locker room.
"That's some good camera work right there," James said when looking at one particularly dramatic photo of the dunk shot by NBA Entertainment photographer Jesse Garrabrant. "That has nothing to do with me."
"Yeah, right," Smith interjected, disagreeing with James. "That s— was crazy. I used to be able to do that. Not now." It might be old hat for Paul and Carter, but James has teammates serving as sort of active spectators to the ride he's on this postseason. "I wanted to see something great," Irving said of his pass that was thrown far higher than it needed to be. "Some people may say it's a bad pass, but I wanted to see something great." James gave his team greatness in Game 3, all right. And now everyone will be watching to see what he has in store for Game 4.