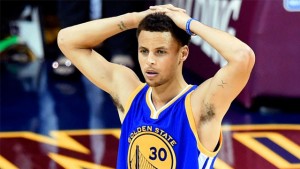 OAKLAND, Calif. — Golden State Warriors interim coach Luke Walton had plenty to say after a frenetic 111-95 victory that followed Golden State's first championship ring ceremony in four decades. His astonished uttering of, "Steph Curry is unbelievable," might trump all that analysis, though.
In the first quarter, Stephen Curry announced the season's arrival with a quick 24 points, skating around the New Orleans Pelicans' defense with evil mirth. He eventually claimed 40 points and seven assists in 29 minutes of play, before burning some lackluster garbage time against the hapless Pelicans. If preseason results and Tuesday's display are any indication, Curry looks better. But at what point does "better" count for "best"?
He's the MVP, but not the best player. This is the widespread consensus, an article of unshakable faith. The league's least physically imposing superstar would like to make that faith tremble, just a bit. Despite winning MVP, despite winning a championship, Curry isn't considered in such conversations now. Even though he just won MVP, he was tied for fifth among next year's MVP candidates in the NBA's GM survey. In ESPN.com's #NBArank, he graded out as the fourth-best player — behind the likes of LeBron James, Anthony Davis, and Kevin Durant.
Not bad company, to be sure, and far beyond what most analysts would have projected for his career just a couple of seasons ago. (He didn't receive a single vote as a possible MVP candidate in the GM survey from the year before.) This isn't to say that pundits are wrong in ranking Curry fourth; it's more to note that few consider Curry first at the moment. As Walton asserted in the preseason, there certainly is a tier at the top of superior talents, where all options are awesome. You could make a plausible argument for top player with each of these four guys, though consensus seems to favor LeBron at No. 1.
If LeBron is considered the current greatest, the consensus for next great player sides with Davis. Former Warriors assistant and current Pelicans coach Alvin Gentry said it succinctly: "We got the best player in the NBA, not named LeBron James." In this season's GM survey, Davis was selected as the second-most-likely MVP candidate behind James.
Davis may well be that, but he wasn't on a Tuesday night in which he missed 15 of his first 16 shots. It was an off night, as even the greatest players suffer, but it was also a reminder of how much of his game is still dependent on guards. Unfortunately for Davis, New Orleans didn't really have any on this night — no offense to Ish Smith, who scored 17 points.
So if Davis is still figuring things out, LeBron is statistically declining and Durant is coming off a tricky injury, why not Curry?
After the game, Draymond Green had an explanation for why so few believe Curry fit for the mantle of No. 1.
"You know everything is always a year or two out," Green said. "After one year, everybody's not just going to change and say, 'Steph Curry's the best player in the league.' It's just not how it usually goes."
Green noted that Curry improved over the offseason, specifically in attacking the basket.
"As crazy as it sounds, his ballhandling continues to get better," Green said. "I think all preseason and training camp he's been doing a better job of getting to the hole."
That was evident on Tuesday, when Curry sank 7 of 7 seven free throw attempts and scored five baskets in the paint. Curry also moved the ball when bigs switched onto him, a focus of Golden State's offense. It's subtle, but at age 27, Curry is still learning, still growing. If he keeps on this trajectory, his status as "best shooter" might just morph into "best player."