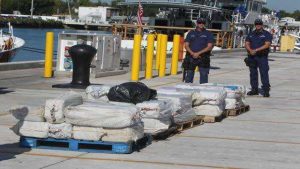 The Coast Guard said the offloading took place on Monday and three suspected smugglers were also arrested.
The Coast Guard reported that while patrolling during Operation Caribbe, on November 11, the crew seized more than 834 kg of cocaine from a suspect vessel that was located south of Jaragua in the Dominican Republic.
While working under the direction of US Joint Interagency Task Force South (JIATF-S), the US Coast Guard said law enforcement members boarded the go-fast boat and discovered 30 bales of cocaine and apprehended three suspected smugglers.
The Coast Guard said the contraband and detainees were transferred to RFA Mounts Bay, a Royal Fleet Auxiliary Bay-class auxiliary landing ship dock.
The RFA Mounts Bay crew transferred the detainees and contraband to the crew of the Pelican and offloaded at Coast Guard Sector St Petersburg.
"This offload today is the result of the combined efforts of our partners and allied men and women who continue to work day and night to stop these criminal organisations from profiting off transnational crime and smuggling," said Capt Aldante Vinciguerra, chief of response, Coast Guard's 7th District.
"This offload represents approximately one ton of illicit drugs that will never hit our streets," he added.
The US Coast Guard said Operation Caribbe is Canada's contribution to Operation Martillo, a JIATF-S operation, subordinate to US Southern Command (USSOUTHCOM), based in Florida.
JIATF-S is a US task force responsible for conducting interagency and international detection and monitoring operations, and facilitating the interdiction of illicit trafficking of drugs, weapons, money and people, the coast guard said.
As part of Operation Caribbe, it said the Canadian Armed Forces (CAF) support multinational efforts to address illicit trafficking by providing naval and air capabilities to detect and monitor suspect activities on the water in the Caribbean and off the Pacific coast of Central America.
The Coast Guard said numerous US agencies from the Departments of Defence, Justice and Homeland Security are involved in the effort to combat transnational organised crime.
The US Coast Guard, Navy, Customs and Border Protection, the Federal Bureau of Investigations (FBI), Drug Enforcement Agency, and Immigration and Customs Enforcement, along with allied and international partner agencies, play a role in counter-drug operations, the statement said.
The US Coast Guard said it increased US and allied presence in the Eastern Pacific Ocean and Caribbean Basin, "which are known drug transit zones off of Central and South America, as part of its Western Hemisphere Strategy".
During at-sea interdictions in international waters, the Coast Guard said a suspect vessel is initially located and tracked by allied, military or law enforcement personnel.
The interdictions, including the actual boarding, are led and conducted by US Coast Guardsmen