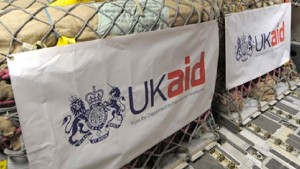 ROSEAU, Dominica, Tuesday September 1, 2015 – The United States and the United Kingdom governments are sending personnel and humanitarian aid to assist in Dominica's ongoing recovery effort on the heels of the destructive Tropical Storm Erika.
The US Agency for International Development (USAID), through its Office of Foreign Disaster Assistance (OFDA), said today that it is providing disaster relief support to the storm-ravaged island.
In addition to sending a four-member assessment team to provide initial damage assessments and needs analysis, USAID said it is in the process of providing humanitarian assistance totaling USD$50,000 for the immediate supply of storm-related disaster relief supplies.
"Working through the Dominica Red Cross, USAID will provide essential relief items to citizens in nine hard-hit areas identified by the government of Dominica," it said.
UK's Department for International Development (DFID), which has committed £300,000 (US$459,751) in humanitarian aid, said yesterday it had rerouted the Royal Fleet Auxiliary (RFA) Lyme Bay to assist humanitarian relief efforts in the Caribbean island.
The British ship is carrying a range of disaster relief stores including bedding, shelter, torches and stretchers, as well as a Lynx Mk 8 helicopter and considerable supplies of fresh water.
Tropical Storm Erika hit Dominica last Thursday, resulting in severe flooding, landslides and wide spread infrastructure damage across the island.
RFA Lyme Bay is stationed in the Caribbean and as part of its primary tasking acts as a first responder in the event of a disaster in the region.
"It is clear that Dominica has borne the brunt of this storm, with a number of deaths already confirmed and hundreds of people made homeless. Roads, bridges and health clinics have been affected and large parts of the island are without water and electricity," International Development Secretary Justine Greening noted.
"Part of RFA Lyme Bay's tasking is to respond to just this sort of emergency and the ship is already en route to assist with relief efforts. As well as essential supplies and helicopter support, the ship can also provide vital expertise to help clean-up operations and recovery efforts."
Victoria Dean, British High Commissioner to Barbados and the Eastern Caribbean, said the UK was saddened to see the devastation the storm has had on Dominica and the government was working hard to offer the very best support it could. Other aid continues to roll in. Dominica's Prime Minister Roosevelt Skerrit said Cuba is sending medical personnel and engineers to the island.
St. Kitts and Nevis has also allocated an EC$1 million (US$370,370) humanitarian relief package to assist Dominica.