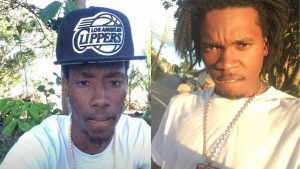 Residents of Cotton Ground, Nevis have not buried the body of 28-year-old fellow villager Morella Webbe gunned down in a hail of bullets 8 days ago, when gunmen shot dead two young men from the same village late Tuesday afternoon.
In the early hours of April 17th, unknown gunmen pumped over 35 bullets into a vehicle Webbe and a friend, 34-year-old Guyanese, Sonia Grant were sitting in, when they were attacked. Webbe died instantly and Grant is said to be recuperating in hospital.
Tuesday afternoon (April 25th), gunmen ambushed a group of youths killing one on the scene, while the other died undergoing surgery at the Alexandra Hospital in Charlestown.
Dead are Elvis Lawrence, 21 years and 25-year-old Shariff Williams.
Multiple reports state that the two dead villagers were among a group of young men liming at the market when a vehicle pulled up beside them. Without warning heavily armed masked gunmen open fire from within the vehicle in the direction of the group striking at least 2 fellows. The armed gunmen reportedly made good on their escape in the vehicle they came in.
The deaths of the two young men bring the number of murders in Nevis this year to five and nine in the Federation.