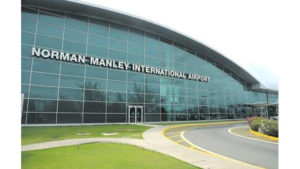 KINGSTON, Jamaica — The police have confirmed that two members of the management staff of the Antiguan national football team were arrested at the Norman Manley International Airport (NMIA) after 3.6 pounds of ganja was found in a checked luggage.
Reports from the police's Corporate Communications Unit (CCU) are that about 2:00pm, detectives from the Narcotics Division arrested the two after the football team and support management staff checked in to board a flight when the ganja was detected in one of their checked luggage during x-ray examinations.
Subsequently their bags were searched in their presence and a false compartment found in a bag containing a back pack with two rectangular packages with ganja amounting to 3.6 pounds.
The officer at the CCU explained that the individual who owned the bag that was found with the ganja was searched and questioned and subsequently another member of the management team was summoned.
Both were arrested and placed in police custody, however their identities are being withheld at the moment until they have consulted with their attorneys.
The team ended with a 1-1 draw in a friendly international match with the Reggae Boyz on Sunday.
Sunday's match was the first game for the Boyz on home soil in over a year, and the performance and result were not the kind they had promised to local fans, who have yearned for their return.