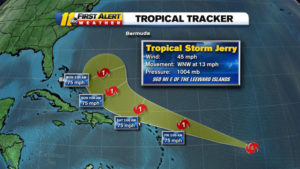 Jerry has become the tenth named storm of the 2019 Atlantic hurricane season, and is on the forecast track be near the northern Leeward Islands Thursday night or Friday.
Residents of St. Kitts and Nevis are being urged to monitor Jerry as it is predicted to further strengthen during the next couple of days to become a hurricane by the time it moves near the Leewards.
According to NOAA's National Hurricane Centre as at 11am Wednesday Jerry was located 14.6N 49.2W or about about 855 miles East of the Leeward Islands.
The Tropical storm has maximum sustained winds of 50 mph with higher gusts and is moving west north west at 14 mph.
A west-northwestward motion at a slightly faster forward speed is expected over the next few days.
At this time, no specific action is required of residents in the Leeward and British Virgin Islands, other than to closely monitor the progress of Tropical Storm Jerry, review hurricane preparedness plans and be prepared to act as any further westward motion could bring the core of the system closer to the islands.
While no watches or warnings are in effect for the island at this time they these may become necessary within the next 24 hours.
The St. Kitts Met office issued an alert statement Wednesday morning and NEMA St. Kitts has activated the national emergency operations centre and posted the contact information for district volunteers on its website and social media pages.
Deputy National Disaster Coordinator Claricia Langley-Stevens told Freedom FM while the federation has been spared the impact of the previous systems this season including the devastating Category 5 Hurricane Dorian, residents should not become complacent. She urged persons to monitor the storm's progress closely and become hurricane ready.