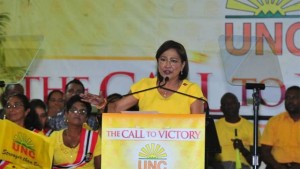 PORT OF SPAIN, Trinidad, Tuesday May 12, 2015 – People who have been living in Housing Development Corporation (HDC) units for over 30 years are being promised they will get the chance to buy those houses for just TT$100 (US$15.89) if the People's Partnership (PP) wins the next general election.
Prime Minister Kamla Persad-Bissessar made the promise at the Monday Night Forum of the United National Congress – one of the four political parties in the PP coalition – in Diego Martin.
"We will work through the Ministry of Housing and the HDC that every person in a HDC house for over 30 years, should you want it, we will give it to you for $100," she told the crowd gathered at the Diego Martin North Secondary School last night.
The Prime Minister added that if the PP got a second term in office, it would also regularize about 30,000 squatters.
However, she stressed, only those captured in a satellite photograph would benefit.
"I am not talking about all those squatters who go running tomorrow to squat . . . You must have been there when that photograph was taken," Persad-Bissessar insisted.
The prime minister also assured there would be no job or salary cuts under a PP administration.