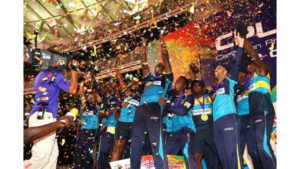 TAROUBA, Trinidad (CMC) — A resurgent Barbados Tridents inflicted a demoralising 27-run defeat on favourites Guyana Amazon Warriors to win their second Caribbean Premier League title here on Saturday.
In a one-sided final at the Brian Lara Stadium, Tridents dealt Amazon Warriors their first loss of the entire campaign, to cap a fairy-tale run, which saw them win just two of their first six matches in the preliminary but rebound to capture three of their last four and finish second in the standings.
For Amazon Warriors, the defeat was their fourth in as many trips to the final, extending a luckless if not maddening record and their frustrating wait for a CPL title.
Having won 11 games on the trot, they chose the wrong time to play their worst cricket and paid dearly in the end.
Choosing to bat first, Tridents rallied to 171 for six thanks mainly to veteran left-hander Jonathan Carter's unbeaten 50 off 27 balls.
Opener Johnson Charles, the Tridents' leading scorer this season, struck 39 off 22 balls while Englishman Alex Hales chipped in with 28 off 24 deliveries.
Tridents were stalling at 126 for six at the end of the 17th over but Carter, who belted four fours and sixes in a man of the match performance, helped his side gather 45 runs from the last three overs.
Amazon Warriors then suffered an uncharacteristic batting meltdown and muffed what should have been a straightforward run chase in ideal conditions, stumbling to 144 for nine off their allotted overs.
Not for the first time, the tournament's leading run-scorer Brandon King top-scored with 43 off 33 balls while all-rounder Keemo Paul (25) and Nicholas Pooran (24) got starts but failed to carry on, leaving Amazon Warriors with an uphill task.
In fact, they were stuttering along at 60 for three at the end of the ninth over, scoring at a run rate of just over 6-½ per over and forcing the asking rate beyond 10.
The pressure eventually told and they lost six wickets for 60 runs in a collapse which swung the pendulum firmly in Tridents' favour.
Raymon Reifer was outstanding with four for 24 while fellow left-arm seamer Harry Gurney (2-24) and off-spinner Ashley Nurse (2-17) supported with two wickets apiece.
Scoreboard
Tridents
J Charles c Hemraj b Tahir 39
A Hales c King b Shepherd 28
P Salt c wkp Pooran b Laughlin 0
+S Hope c Hemraj b Paul 8
Shakib-al-Hasan run out 15
*J Holder run out 1
J Carter not out 50
A Nurse not out 19
Extras (lb7, w3, nb1) 11
TOTAL (6 wkts, 20 overs) 171
Did not bat: R Reifer, H Walsh, H
Gurney
Fall of wickets: 1-43, 2-45, 3-73,
4-88, 5-90, 6-108.
Bowling: Green 4-0-32-0, Hemraj
1-0-10-0, Imran Tahir 4-0-24-1,
Laughlin 4-0-28-1, Shepherd 3-0-
29-1, Paul 3-0-30-1, Shoaib Malik
1-0-11-0.
Amazon Warriors
B King st Hope b Nurse 43
C Hemraj b Reifer 1
S Hetmyer c Hales b Reifer 9
*Shoaib Malik b Walsh 4
+N Pooran b Nurse 24
S Rutherford c Holder b Gurney15
R Shepherd c wkp Hope b Reifer 9
K Paul c Holder b Gurney 25
C Green c wkp Hope b Reifer 5
Imran Tahir not out 4
B Laughlin not out 1
Extras (lb1, w2, nb1) 4
TOTAL (9 wkts, 20 overs) 144
Fall of wickets: 1-12, 2-30, 3-53,
4-79, 5-88, 6-104, 7-121, 8-139,
9-139.
Bowling: Holder 4-0-37-0, Reifer
4-0-24-4, Shakib-al-Hasan 2-0-18-
0, Gurney 4-0-24-2, Walsh 2-0-23-
1, Nurse 4-0-17-2.
Result: Tridents won by 27 runs.
Series: Tridents win CPL 2019
title.
Man-of-the-Match: Jonathan
Carter.
Man-of-the-Series: Hayden Walsh
Jr.
Toss: Tridents.
Umpires: N Duguid, G Brathwaite;
TV – L Reifer Jr.