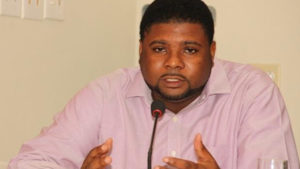 The Ministry of Education on Nevis is taking some flack after it was announced that two public schools would not have been opened on Monday for the new school year.
The Ivor Walters Primary School was initially scheduled to reopen on Wednesday 4th September, but that has since been extended to Monday, September 9th.
While students in Forms 4–6 at the Charlestown Secondary School attended school this week, all other students will resume school on Monday.
Speaking with Freedom FM NIA Junior Minister of Education Troy Liburd explained that the delay is due to major construction work being done to improve the facilities for staff and students. He said the renovation work had started as soon as schools closed in July and continued apace through the summer break, however it was anticipated the construction would run into the first week of school.
As it relates to Charlestown Secondary, refurbishment included new roofing, and extra floor on one of the buildings, new female bathroom and other renovations.
The Minister revealed that inspections confirmed a rodent problem in the ceiling at Ivor Walters Primary which led to the entire roof being removed. He said that was a huge undertaking that could not have been completed in a few weeks.
"The health and wellbeing of our students is paramount and so we took the decision to refurbish the schools, they are large projects and it does take the whole summer to do something like that. It's not work that could have been done in four or five weeks. It's work that in a normal course of things take much longer than it has but but we asked the contractor to get it done in a shorter period of time. It was always going to be pressing to get that amount of work done.
"I know that there has been a lot of fear mongering and rumor mongering about the schools but persons have to rest assured that the government has the best interest of the children at heart. That is the reason we took the extraordinary decision to improve the schools. For too long our schools have been there and the type of maintenance that should have been happening in the schools didn't happen, and so we're trying to make a conscious effort to do that.
"If other people want to take the schools and the children and try to make politics out of it then that's up to them; but as far as I'm concerned I have a job to do which is to ensure that the students of Nevis have the best possible facilities and that we provide the highest standard of education for our students."