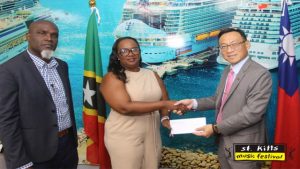 The Government of Taiwan has donated US$20,000 for the staging this of year's St Kitts Music Festival.
Taiwanese Ambassador Michael Lin presented the cheque yesterday to Minister of Tourism Marsha Henderson.
The self-governing island is now a gold sponsor of the festival, which is set to take place from June 22-24, 2023.
Henderson thanked Taiwan for their support and she said the money would assist to produce a spectacular event.
"I would like to thank the people of the Republic of China (Taiwan) for their contribution to nation-building, particularly in the development of our tourism industry," Henderson said. "The St. Kitts Music Festival is celebrating 25 years, which is a significant milestone for us. Also, this year we are celebrating 40 years of diplomatic ties with Taiwan. So this contribution certainly underscores the deep and enduring friendship between our two nations."
This year's music festival is expected to be larger than previous years and will see the likes of Burna Boy, Chronixx, Skinny Fabulous and Air Supply taking the stage.