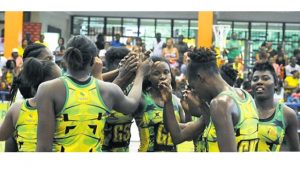 NELSON, New Zealand (CMC) – Jamaica crashed to a heavy 38 point defeat after they were outplayed in their opening encounter of a three-match tour of New Zealand on Sunday.
The Sunshine Girls were completely overpowered 34-72 by a New Zealand team, two places above them in the netball world ranking.
New Zealand, ranked number two in world netball, led the fourth ranked Jamaicans throughout the match at the Trafalgar Centre in Nelson.
The best shooters for Jamaica were Shanice Beckford, 15 goals in 19 tries, Shantal Slater, 10 goals from 13 attempts while Vanessa Walker contributed nine goals from 14 tries.
The Sunshine Girls play their second match against New Zealand on Wednesday with the final match of the tour carded for Saturday.