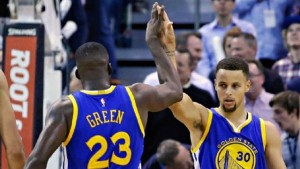 OAKLAND, Calif. — Right before the Golden State Warriors calmly dispatched the Los Angeles Clippers 114-98 on Wednesday, their coach spoke of a benchmark that overshadows this once-burgeoning rivalry:
Steve Kerr finally dared to discuss reaching the 73-win mark.
"I think it's a good question now," Kerr said prior to the contest, when asked about it by Tim Kawakami of the Bay Area News Group. "It was a good question then [when Kawakami asked months ago]; it just wasn't anything I was interested in addressing, because it was so early."
"But you're right now, we're right there," he continued. "We're 12 games away; we need to win 10 to set the record. That's pretty enticing."
With the victory, the 64-7 Warriors now are nine wins away from the milestone.
Kerr is a latecomer to this cause, as his best players have started to openly embrace the chase. In Dallas, Stephen Curry was asked if "deep down" he wanted the wins record. He responded flatly, "There's a reason you're still talking about that 1995-96 Bulls team. So yes." Draymond Green upped the ante, after a loss against the Spurs, no less. He proclaimed, "I'm not going to shy away from saying we want the record. We want the record, and we're going after it."
There's an irony to how the most vocal chasers of history are the youngest members of this organization. It's the coaches who have been reluctant to sprint at this point of the marathon.
At the same time, Kerr and the coaching staff recognize the value of a motivating factor in a second grueling title chase. Green best summarized the appeal of chasing 73 while in Minneapolis by simply saying, "I think it's something that can help you focus, because obviously, you gotta win."
And win the Warriors did on Wednesday, even if was a dreary kind of trouncing. This fiery rivalry had somehow softened, and the resulting atmosphere was soporific. "The first half was kind of weird," Kerr remarked of the scene. "It was just kind of a dead atmosphere in there. There didn't seem to be the usual kind of energy from the rivalry."
Green echoed those sentiments, saying that he was at a loss to produce one of his typically galvanizing speeches. "First half, it was a weird game," Green said. "Like, we came in and Steve, at the end of his speech, was like, 'Hey, anybody got something? Draymond, you got something?'" Though he produced on the floor (12 points, 12 boards and 4 assists while defending DeAndre Jordan), Green was bereft at that moment. There seemed to be no reason for winning other than winning.
Though the energy might have been low (until the third quarter, when Golden State made its push), there were fine performances. Klay Thompson was brilliant, scoring 32 points while moving well without the ball. Andrew Bogut returned from injury with some stout defense, ending with a plus-18 in 20 minutes, as Kerr noted. Curry scored 33, but he impressed more on defense, hounding Chris Paul and tracking JJ Redick. Curry even picked up a rare technical foul, frustrated to be whistled while playing Paul tight. "I thought I played great defense on that possession," Curry later said.
Due in part to Curry's defensive efforts, Paul went 4-of-16 for 13 points, illustrating another aspect of why this rivalry has waned. Though still an excellent player, Paul has the look of a lion in winter when facing Curry. A few of Curry's best Vine highlights have come at Paul's expense (Curry added at least one more Wednesday, if not two), and Paul isn't tilting that balance anytime soon.
While the Warriors won't come out and say it, they've killed the Clippers rivalry with their success. This was their sixth straight win over the Clips; the "rivalry" label cannot withstand that type of repeated beating.
The issue is that when it's not a Spurs or Thunder game, the Warriors are seen as playing against themselves. Against the vast majority of the league, Golden State doesn't have to prove its superiority anymore or, at least, doesn't feel a burning need to. "Lob City" was once a measuring stick and, sometimes, a squad that Golden State could aspire to one day best. Now, the Warriors have 73 reasons to win and the Clippers aren't one.