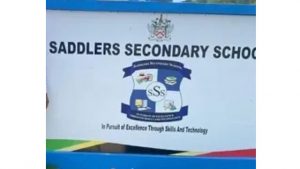 On October 31st, 2023, at approximately 6PM, the Royal St. Christopher and Nevis Police Force (RSCNPF) was officially informed of a possible security breach at the Saddler's Secondary School.
According to the report received, some students had allegedly observed what appeared to be a firearm in a storeroom at the school earlier that day. A subsequent search of the storeroom by the school's security officer yielded no results. Fully acknowledging the serious nature of the report, Police officers went to the school the following day and they supervised the customary entry security screening of students at the start of the school day.
On November 2nd, 2023, the school compound and its perimeter were thoroughly searched in a joint investigative effort between the RSCNPF and the Customs K9 Unit. This was done to ensure the compound was free of contraband and to further address additional security concerns expressed by students and staff alike. The joint search produced no illegal items or contraband.
As the Federation's primary law enforcement agency, the maintenance of peace, law, and order are paramount priorities for the RSCNPF. All reports made to the Police are regarded with a high level of importance, and even more so when the presence or use of illegal weaponry is [allegedly] involved. Thus, the Force's staunch "zero tolerance" stance to those who persistently choose to create a life outside our nation's legal parameters continues to bear fruit. Our quest for justice will neither slow nor cease.
We continue to encourage persons who may have information of criminal activity to call the nearest Police station, or the Crime Stoppers' Hotline, 707. The RSCNPF will maintain a high level of vigilance as we work to safeguard the well-being of our communities and the communal assets within that serve and empower our people.
MOE ADDRESS REPORTED FIREARM SIGHTING AT SSS
The Ministry of Education was informed by Saddlers Secondary School's administration of a firearm observed on the premises.
According to Permanent Secretary in the Ministry of Education, Mrs. Lisa-R Pistana, the Ministry immediately reported the matter to the Royal St. Christopher and Nevis Police.
This resulted in officers being dispatched to the school, where they gave support to the school's security.
To ensure the safety of staff and students, an extensive search was carried out on Thursday, November 2nd, by the St. Christopher and Nevis Police. No firearm was found.
Saddlers Secondary School was moved to remote learning to facilitate the search. They will remain on remote learning on Friday, November 3rd, and return to face-to-face instruction on Monday, November 6th.
The Permanent Secretary stated that, in consultation with the St. Kitts and Nevis Police Force, key measures were recommended. The Ministry of Education will continue to work collaboratively with the police to ensure the safety of its staff and students in all its facilities.
Mrs. Pistana expressed thanks to parents, staff and students for their patience and cooperation.