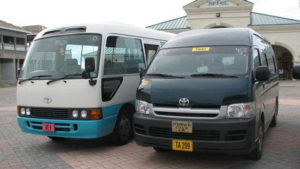 Taxi and tour operators licensed on St. Kitts will have to apply for a temporary pass from the Nevis Tourism Authority to ply their trade on the sister island.
This formed part of several amendments that came in the Nevis Taxi and Tour Bus (Amendment) Bill, 2019 passed on Tuesday.
NIA Minister of Tourism Premier Mark Brantley tabled the bill which he said is intended to improve the standard of service provided by taxi and tour operators on Nevis.
The Tourism Minister explained he was not preventing taxi operators from St. Kitts from coming over to Nevis to do business, but they would have to be guided by the same rules and regulations as their counterparts on Nevis.
"Operators licensed or trained by the Ministry of Tourism in the federal government or the St. Kitts Tourism Authority that seek to operate in the prescribed areas in Nevis they must produce a valid taxi id permit and must be granted a temporary pass from the Ministry of Tourism in Nevis.
"That is important because more and more we see now with the sea bridge taxi and tour bus operators on St. Kitts they want to drive onto the sea bridge with a bus load of tourists and bring them over or they may well wish because they see over here that we don't have enough taxis to come over and operate for the day."
The Premier said the new regulation was not intended to hinder St. Kitts operators from coming to Nevis, only to ensure that everyone adheres to the high standards of service the government is setting for Nevis.
"We don't want any difficulty; we want people to understand the rules. It is therefore expected that the operators coming from our sister island St. Kitts will have to follow the same requirements [as those on Nevis]; I don't think anybody should fault that it is not our aim or intention to limit or hinder the expansion of our operators coming from St. Kitts but we add this to ensure uniformity in the sector by all operators."