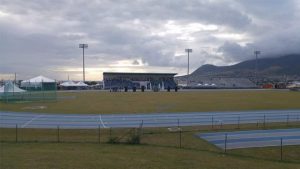 Sports facilities across St Kitts are receiving much-needed upgrades.
The most extensive upgrade project will take place at the Kim Collins Athletic Stadium.
Engineer Jared Joseph at the Public Works Department (PWD), who was part of a team that visited the six sports facilities, said the scope of work includes a complete overhaul of the electrical system and plumbing systems and repairs to the pavilion's steel frame.
Cracks in the structure will be repaired and two dry walls at the back of the pavilion are to be replaced by concrete walls. The interior roof and tiles will also be overhauled as general aesthetic fixes to the bathrooms and gyms.
New bathrooms, a bar, a lounge and an 8,000-square-foot pavilion are to be constructed at the Conaree Playing Field.
At the Atiba Harris Sporting Complex in St Peter's, upgrade work will include the installation of a roof on the seating area and the construction of a structure to host a gym, kitchen and laundry facilities.
Minister of Sports Samal Duggins lamented the condition of the country's sports facilities.
"This work has not been done since 2013. That's a decade ago and how did we allow this as a country," the minister stated. "And while I am only here now for some 11 months, I believe that we all must be held accountable for the conditions of our sporting facilities. The people of St Kitts and Nevis have my assurance that this will not continue. We are about to change the dynamics and give the people the best because they deserve the best."