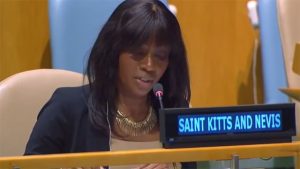 St Kitts and Nevis expressed its support for efforts by the United Nations to address systemic racism that exists across the world.
Speaking at yesterday's Second Session of the Permanent Forum on People of African Descent (PFPAD), Ambassador of St Kitts and Nevis to the United Nations, Nerys Dockery, said the country plans to give its full support to initiatives like the Caribbean Community's (CARICOM) 10-Point Action Plan for Reparatory Justice.
"The abolition of systemic racism requires a systemic response, and St. Kitts and Nevis is proud to align itself with the CARICOM statement and to stand in solidarity with our brothers and sisters across the Caribbean Community in making the call for Reparatory Justice and increasing our advocacy within the United Nations system to identify pragmatic steps towards its achievement," said Dockery.