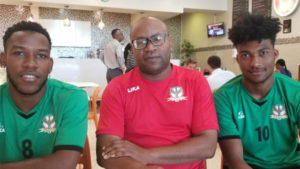 Following Wednesday night's 1-1 draw between Jamaica and Dominica, there is growing confidence within the St. Kitts and Nevis squad competing in the preliminary round of the men's Olympic qualifying in Kingston.
Following two weeks of solid preparations, which ended with a 1-1 draw in a practice match against Antigua and Barbuda.
With the preparation behind them and having seen their opponents at the Anthony Spaulding Sports Complex on Wednesday, St. Kitts and Nevis believe their chances are good.
"From last night I feel we can match any team in this tournament," said 21-year-old Yohannes Mitchum who just completed his contract with Puebla U23 in Mexico. "I am very confident that we can top the group."
Team manager, Jamir Claxton, said his central midfielder's confidence is not misplaced.
"We are very confident. This team is a very talented team that has been playing together for a number of years," he said.
"In fact, the core of this team has been together from the 2017 CONCACAF U20 championships, plus some players from the last CONCACAF U20 tournament.
"Preparations have been going well. The majority of the players are playing in St. Kitts so there was no problem getting them together. Over the last two weeks, we had two overseas-based players join us."
Besides Mitchum, the team boasts game-changing talent in several other positions as well. Midfielder Tyreese Shade suits up for Leicester City's U21 team in the United Kingdom, Tahir Harley, a forward who plays for Village Superstars in the St. Kitts and Nevis Premier League and forward G'Vaune Amory will make life difficult for Jamaica and Dominica.
Success in the qualification process and the ultimate qualification for the 2020 Olympics would be an occasion for his country to savour.
"It would be a historic feat. It would mean a lot to the people of St.Kitts. This team is representative of our people," Claxton said.
"We are a small nation but we are always aiming for the stars to achieve an objective of that nature would bring joy, happiness and pride to the people of St. Kitts and Nevis."
St. Kitts plays Dominica at 4:00 pm (5:00 pm ECT) Friday at the Anthony Spaulding Sports Complex.