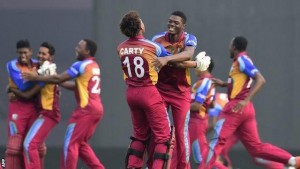 A familiar capitulation saw West Indies lose 14 wickets in just over two sessions as India romped to an emphatic innings and 272-run victory inside three days of the opening Test here yesterday, to record their largest-ever win in Tests.
Resuming their first innings on 94 for six at Saurashtra Cricket Association Stadium, West Indies were dismissed for 181 nearly three-quarters of an hour before lunch, with Roston Chase converting his overnight 27 into a top score of 53 and tail-ender Keemo Paul hitting an aggressive 47.
Forced to follow on, West Indies stumbled to lunch on 33 for one and then suffered another collapse thereafter to be bowled out for 196 — about 20 minutes after tea.
Left-handed opener Kieran Powell hit an attacking 83 while Chase chipped in with 20, but the Indian spinners weaved a web around the tourists and further extended their 24-year wait for a victory on Indian soil.
Kuldeep Yadav snatched five for 57 while fellow left-arm spinner Ravi Jadeja picked up three for 35, with off-spinner Ravi Ashwin, who bowled the new ball, finished with two for 71.
Once India had piled up 649 for nine declared in their first innings on Friday the game became one of survival for the Windies, but they lacked the resolve to push the contest into a fourth day as the gulf between the two sides was cruelly exposed.
The tourists were handed some hope at the start of the day, however, when Chase and Paul extended their seventh-wicket stand to 73.
Paul, in only his second Test, proved the aggressor, smashing seven fours and two sixes off just 47 deliveries after resuming the day on 13.
Chase, too, remained positive, moving into the 40s with two leg-side boundaries off Kuldeep before raising his sixth Test half-century with another two boundaries off the same bowler a few overs later.
Paul looked a good bet for his maiden half-century when he failed to keep down a pull at pacer Umesh Yadam and top-edged a catch to midwicket.
Chase followed with 12 runs added, bowled off the inside edge while attempting to drive Ashwin. In the same over, debutant Sherman Lewis played back and was also bowled by one he misread.
The right-handed Chase faced 79 deliveries and counted eight fours.
Scoreboard
INDIA 1st Innings 649-9 decl.
WEST INDIES 1st innings
(overnight 94 for six)
*K Brathwaite b Mohammed Shami 2
K Powell lbw Mohammed Shami 1
S Hope b Ashwin 10
S Hetmyer run out 10
S Ambris c Rahane b Jadeja 12
R Chase b Ashwin 53
+S Dowrich b Kuldeep Yadav 10
K Paul c Pujara b Umesh Yadav 47
D Bishoo not out 17
S Lewis b Ashwin 0
S Gabriel st Pant b Ashwin 1
Extras (b16, lb2) 18
TOTAL (all out, 48.0 overs) 181
Fall of wickets: 1-2, 2-7, 3-21, 4-32, 5-49,
6-74, 7-147, 8-159, 9-159, 10-181
Bowling: Mohammed Shami 9-2-22-2, Umesh
Yadav 11-3-20-1 Ashwin 11-2-37-4 Ravindra
Jadeja 7-1-22-1, Kuldeep Yadav 10-1-62-1
WEST INDIES 2nd innings (following on)
*K Brathwaite c Shaw b Ashwin 10
K Powell c Shaw b Kuldeep Yadav 83
S Hope lbw b Kuldeep Yadav 17
S Hetmyer c Rahul b Kuldeep Yadav 11
S Ambris st Pant b Kuldeep Yadav 0
R Chase c Ashwin b Kuldeep Yadav 20
+S Dowrich not out 16
K Paul c Umesh Yadav b Jadeja 15
D Bishoo c wkp Pant b Ashwin 9
S Lewis lbw b Ravindra Jadeja 4
S Gabriel c Kuldeep Yadav b Jadeja 4
Extras (b5, lb1, nb1) 7
TOTAL (all out, 50.5 overs) 196
Fall of wickets: 1-32, 2-79, 3-97, 4-97, 5-138,
6-151, 7-172, 8-185, 9-192, 10-196
Bowling: Mohammed Shami 3-0-11-0 (nb1),
Ashwin 18-2-71-2, Umesh Yadav 3-0-6-0,
Kuldeep Yadav 14-2-57-5, Jadeja 12.5-1-35-3
Result: India won by an innings and 272 runs.
Series: India lead two-match series 1-0.
Man of the Match: Prithvi Shaw.
Toss: India
Umpires: I Gould, N Llong
TV umpire: B Oxenford