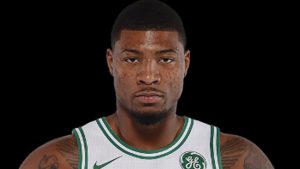 The Boston Celtics failed to rebound, literally and figuratively, on Tuesday night against the Los Angeles Lakers, resulting in a 108-107 loss that extended their season-long losing streak to four in a row.
Marcus Smart's potential game-winning shot hit the back of the rim as time expired.
Boston (34-14) got another monster game from Kyrie Irving who led all scorers with 33 points. Smart had 22 points, only the second time this season he has had 20 or more points in a game.
But this game was decided by the Lakers' dominance on the glass, as they out-rebounded Boston 51-42 which included a 14-7 advantage on the offensive glass which led to 23 second-chance points for the Lakers (18-29).
However, the Celtics did make things interesting.
A 3-pointer by Terry Rozier made it a 106-103 game wit 23.8 seconds to play.
Josh Hart was fouled by Al Horford, but missed both free throws.
Julius Randle grabbed the miss, but fouled Marcus Smart who went to the free throw line and made a pair that cut the Lakers lead to 106-105 with less than 20 seconds to play.
Boston tried to steal the ball, but wound up fouling Jordan Clarkson who made a pair of free throws with 11.6 seconds to push the Lakers lead to 108-105.
After a Celtics time-out, Terry Rozier scored on a driving lay-up with 7.3 seconds to play.
The Lakers' Kentavious Pope-Caldwell missed a pair of free throws in the closing seconds as well, which set up Boston's potential game-winner by Smart.
Despite the Lakers giving Boston one opportunity after another to win the game, the Celtics consistently fell short in a game that was there for the taking.
Following a Celtics time-out with 6:40 to play, Boston seemed on its was re-establishing control when Marcus Smart stole the ball and had a 2-on-1 break with Jaylen Brown and the Celtics ahead 91-90.
Rather than driving in for the lay-up, Smart threw a lob pass to Brown for a dunk that Brown missed.
That was just what the Lakers needed, as they scored on the ensuing possession which was the beginning of 9-2 Lakers run that proved to be a surge that Boston could not overcome.
The close finish was indicative of how the game began with neither team showing any signs in the first quarter of taking control.
The Celtics began to put some separation between themselves and the Lakers in the second quarter.
Trailing 33-32, Boston went on a 7-0 run capped off by a 3-pointer by Irving.
The Celtics would eventually pull ahead by 14 points before settling in for a comfortable 53-45 halftime lead.