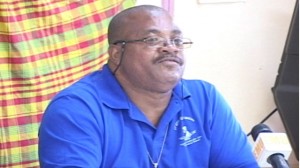 The St. Kitts Union of Teachers has advised the Ministry of Education that it intends to support the teachers at the Basseterre High School in their continued industrial action.
In a letter to Minister of Education, Sen. Nigel Carty dated October 31st, Ron Collins, President of the SKTU said quote: Such actions are being taken in protest to the teachers and students being hosted at the current site, which the SKTU views a serious health risk to teachers and our learners.
The letter also confirmed reports coming to ZIZ News that both the union and affected teachers are will only consider the BHS matter resolved if the Ministry relocates the school.
Mr. Collins said the union regretted any inconvenience the teachers' protest action has and will continue to cause. He continued that the union could not quote: Support our teachers and students being in an environment that is detrimental to their health and wellbeing.
The SKTU also issued a threat stating that, while the action would for now remain limited to the Basseterre High School Teachers, they are prepared to escalate to island wide industrial action if their ultimatums are not met.
The letter comes just days after an unfruitful meeting Tuesday where the teachers assigned to the Basseterre High School and the SKTU rejected six proposals made by the Ministry of Education aimed at resolving the ongoing BHS matter amicably.
Meanwhile the Ministry of Education issued a Statement on Sunday in response to postings on FB that the BHS would be closed from Monday.
The Ministry of Education has become aware of rumours purportedly giving notice that there will be no school at the Basseterre High School on Monday 03 November 2014. This false rumor has been disseminated via Social Media as well as other means.
The Ministry has given no such instruction or notice with respect to the operation of the BHS and hereby gives firm notice of the following:
1. That school operations at the BHS will continue on Monday and hence forth until further notice
2. That the Ministry expects that all teachers assigned to BHS will report for classes on Monday and henceforth.
The Ministry of Education is aware of allegations of continued environmental concerns at the Basseterre High School. However, based on all professional and scientific advice, the Public Health Authorities continue to declare that the environment at the BHS as safe.
Over the last months the Ministries of Education, Health, and Public Works have worked assiduously with the CARIRI (the Caribbean Industrial Research Institute), and CARPHA (Caribbean Public Health Agency) to address the identified environmental concerns at the Basseterre High School. All corrective actions as recommended by these institutions were addressed.
The Ministry of Education is committed to the Education of our children and the health and safety of all students and teachers. The Ministry continues to require the attendance of all students at the Basseterre High School.