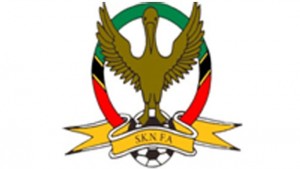 The St. Kitts Nevis Football Association is being called on to take strong action in relation to the player on player violence on Saturday night to send a message that this type of behavior will not be tolerated in the sport.
Following an Easter Cup finals match, where Rams Village Superstars defeated SOL Island Auto Conaree 2-1, Superstars defender 22-year-old Raheem "Pipe" Francis was attacked and stabbed, allegedly by a Conaree player he had a slight tussle with during the match. Francis underwent hours of emergency surgery for the knife wound to his abdomen and is in stable condition. The Conaree player is in police custody but up until Tuesday afternoon police did not reveal if he had been charged with an offense.
Konris Maynard, the parliamentary representative for the Village area and a benefactor and supporter of the Village superstars condemned the incident and encouraged the Association to take steps to show their intolerance of that type of behavior.
"The SKNFA has a serious duty here to evaluate the situation because it is unprecedented, so they would have to come to an appropriate decision that will deter this ever happening again, that players know they not only represent themselves but their clubs and community. The SKNFA has to make certain that this type of behavior is not at all tolerated or condoned and their actions going forward must emphasize that."
Sport Ambassador Jonel Powell also expressed similar sentiment saying the SKNFA has to take a stand in this unprecedented situation, which should include serious penalties for the team of the offending player.
"I am awaiting to hear what all the official reports on the incident are. I think both player and club should be penalized above and beyond any criminal penalties that may be faced., because I think it is important for the FA to to make a statement and say look, this type of behavior is unacceptable. The club has to take some responsibility. The FA needs to get serious."
On Monday morning Sol Island Auto Conaree Football Club issued a statement on the stabbing, condemning it as a "truly sad and unfortunate incident", and offering earnest prayers for Raheem's speedy and complete recovery.
"The Executive and Management of the Conaree Football Club met on Sunday evening in light of this unfortunate incident. Our sincerest thoughts and prayers and that of the entire Conaree community are with Raheem, his family, friends, teammates and the larger Village community at this time. We are praying earnestly for his speedy and complete recovery. The Sol Island Auto Conaree Football Club deeply regrets the incident, and strongly condemns any form of violence whether on or off the field of play and would like to assure everyone that this incident does not represent our values as a Club and community. Our Club will seek to engage the SKNFA, the management of the Rams Village Superstars Club and any other relevant bodies to see what interventions can be made, as we aim to continue using football as a platform for positive action within our communities."
The SKNFA, which had suspended Sunday's matches because of the violent attack, issued a statement on Tuesday afternoon.
"The SKNFA is currently investigation a stabbing incident that occurred at the end of the Premier League Match RAMS Village Superstars vs. SOl IAS Conaree, which resulted in player Raheem Francis being hospitalized in critical condition at the JNF General Hospital, in Basseterre. To this end, all National Bank Premier League matches scheduled for today Sunday 21 April 2019 have been postponed until further notice.
At this moment, our prayers and thoughts are with Raheem and his family as they go through this difficult period. Raheem Francis is a former National U17 and U-20 player and a current player of the RAMS Village Superstars and the National Senior Men's team."
Freedom FM reached out to the SKNFA General Secretary Stanley Jacobs for comment on the way forward but his phone went to voicemail. Attempts to ascertain from President Anthony Johnson if a meeting between between the Association and the two teams had been scheduled went answered.