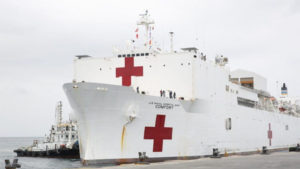 The medical staff from the US Naval Ship Comfort began seeing patients from St. Kitts and Nevis on Saturday and based on preliminary reports, a large number of persons have already accessed the free services.
Chief Medical Officer Dr. Hazel Laws speaking with Freedom FM on Monday.
"I do not have the numbers for day one but on Sunday I visited the medical site 2 in St. Pauls Community Centre myself and 139 persons were seen and that's very encouraging. They were all helped and left satisfied."
The Chief Medical Officer is encouraging persons suffering from medical ailments to avail themselves of the free services which will be provided each day until October 10.
"I would use the opportunity to tell the people that free healthcare is available. You can see the doctors and access dental services get your eyes checked, get an X-ray done, if you're in need of physiotherapy those services are free and readily available; you just show up at the sites, first come, first serve.
"So if they are in need of healthcare they can capitalize on the opportunity to access the free services at the two medical sites- the Antioch Baptist Church in Lime Kiln and the St. Pauls Community Centre."
US Ambassador to Barbados and the Eastern Caribbean Linda S. Taglialatela said she hopes the USNS Comfort's visit to St. Kitts would be as successful as it has been at the rest of the ship's stops in the region over the past few weeks.
"This health mission has been a collaborative effort between our governments. I want to thank the many dedicated persons members of the Comfort team, civilian volunteers and partner nations' militaries who have come together to make this mission a reality.
"Comfort's visit to the Eastern Caribbean has been a resounding success. In Grenada and St. Lucia military medical personnel treated more than 10,000 people in total. We hope the residents of St. Kitts and Nevis like their brothers and sisters before them who also took advantage of these services. This is the Comfort's 9th mission; it has shown that as friends and neighbors we are stronger and healthier together. The work of the ship's crew and the citizens of St. Kitts and Nevis working side by side is proof of this."
Junior Minister of Health Senator Wendy Phipps expressed the government's gratitude for the provision of the medical services that she said would better the lives of the people of St. Kitts and Nevis who access the free healthcare provided.