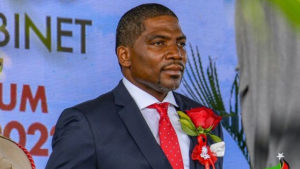 Prime Minister Terrance Drew will introduce amendments to St Kitts and Nevis' Firearms Act as part of efforts to reduce violent crime in the federation.
The government is seeking to increase the maximum penalty for breaches committed under the Firearms Act to 25 years of imprisonment with or without hard labour.
In a national address earlier this week, Drew announced the Cabinet had agreed to table legislation in the National Assembly to increase the penalty for illegal firearms offences from 15 years to 25 years in prison.
The country is experiencing an upsurge in gun crimes, which is related to gang activity.
Central Basseterre is one of the areas where violence has taken root.
St Kitts and Nevis has recorded 16 murders for the year.
Drew, who is also the minister of national security, has created a task force to develop and lead a behaviour-changing initiative.
The task force will look at crime as a public health issue.
Programs developed by the task force will target children between the ages of six and 19.
Meanwhile, the prime minister will also table the Freedom of Conscience (Cannabis) Bill, 2023 for its first reading in the National Assembly.
The Bill seeks to allow adults to grow cannabis for private use in a secured area within a private residence and the personal possession and use of cannabis in certain public places within the designated smoking areas.
The bills will be tabled during Monday's sitting of Parliament, which begins at 10 am.