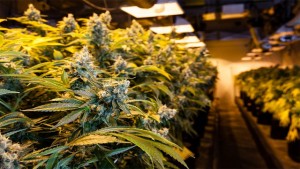 The government of St. Kitts and Nevis on Thursday tabled the Cannabis Bill, 2019 in the National Assembly which provides for the regulation and control of cannabis use in the federation.
Prime Minister Dr. Timothy Harris, who introduced the bill, said it signaled a read letter day for the country.
"It represents the timely and careful modernization of our primary drug legislation and it places the law in sync with the pulse of our citizens and of course with the trends of the times."
The Prime Minister said this move would ensure citizens are not marginalized in the efforts of the country to build out a marijuana industry, warning about foreign illicit actors showing interest in cannabis cultivation in St. Kitts and Nevis.
Seeking to clarify the law as it stands in relation to the cultivation, importation, possession and use of marijuana in the federation, Attorney General Vincent Byron said despite the May 3 court decision that Rastafarians can use marijuana for religious purposes in the privacy of their homes, until the laws are amended, citizens are expected to respect and obey the law as it currently stands.
"We are a peaceful and law abiding people and we ask that members of the society continue to obey the laws. We remind that he possession, use, cultivation, importation and exportation of marijuana of any type remains illegal. This is still the current law there's no free for all, not on Fort Street, not in our schools or any other public place, or anywhere. We would also like to indicate that the decision of the court does not in any way affect the law as it relates to trafficking, it is still prohibited. We urge all citizens to refrain from all conduct that would run afoul of our laws in relation to trafficking."
The Cannabis Bill, 2019, provides for the regulation and control of cannabis for religious use, by documented members of registered religious organizations, to uphold the constitutional rights afforded to each citizen of Saint Christopher and Nevis, to establish the Saint Christopher and Nevis Medicinal Cannabis Authority whose functions will be described herein, to authorize medicinal and alternative health practitioners to recommend medicinal cannabis, to establish scientific research protocol for medicinal cannabis, and to establish a licensing structure and complete tracking system for medicinal cannabis businesses.