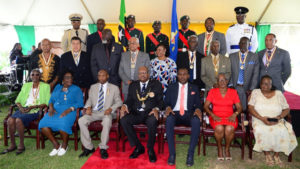 Sixteen exemplary nationals of St. Kitts and Nevis were invested with the 2018 National Honours Awards for their exceptional contribution to the development of the Federation at an investiture ceremony held by His Excellency the Governor-General Sir S.W. Tapley Seaton, on Wednesday, February 06, 2019, at Government House.
The Companion Star of Merit (CSM) was awarded to the following persons: Ambassador His Excellency Sydney Osborne, Education/Public Service; Alphonso Barker, Business Entrepreneurship/ Culture; Kenneth Kelly, Business Entrepreneurship; Alphonso Bridgewater, Sports Administration/Public Service; Creighton Pencheon, Culture; J. Calvin Fahie, Policing/Community Service; Elston "Ellie Matt" Nero, Musical Excellence Locally, Regionally and Internationally; Sylvine Henry, Public Service/Community Service; Hilton Clarke, Education/Community Service, and Adrian Lam, Musical Production/Community Service.
Six nationals were the recipients of the Medal of Honour (MH): Ellenita Nathaniel, Education/Community Service and Lionel Gumbs (Mansion Bull), Culture; Sylvester Hodge (King Socrates); Walston Shield (King Starshield); Jacqueline Leader (Singing Jackie), and Errol Dolphin (King Arrow) were awarded in the category of Calypso/Music.
The awards were presented by His Excellency Sir S.W. Tapley Seaton.
Deputy Prime Minister of St. Kitts and Nevis, the Honourable Shawn Richards, congratulated the awardees and thanked them for their meritorious contributions to nation building.
The deputy prime minister recited the common quote "give me my flowers while I am still alive" because that is the time they are most enjoyed. He added that today, (February 06) marks the moment when Sir Tapley presents the honourees with their flowers, as well as the day when the Federation of St. Kitts and Nevis "places their good works on a pedestal like beautiful flowers on display."
"Their good works like flowers, have accentuated the garden of St. Kitts and Nevis, blooming at the right times and filling the air with fragrances of success and creativity," said Deputy Prime Minister Richards. "Their good works have provided much need of sustenance to our people emotionally, financially and otherwise, and have also helped to bring out the best in all of us whether by successfully developing businesses and job opportunities; providing cultural entertainment; community and public service, and by educating our children and honing their talents in sports, music and the arts."
He described the CSM and MH as "two of the highest civilian honours that the Federation of St. Kitts and Nevis proudly bestows on its sons and daughters."
The honorees were awarded in keeping with the National Honours Act No.19 of 96. The National Honours Act provides for the Star of Merit, the Medal of Honour and the Order of National Hero to be awarded to any citizen of St. Christopher and Nevis, who renders distinguished and outstanding service to the nation.
Present at the ceremony were members of Cabinet including the Honourable Eugene Hamilton; the Honourable Vincent Byron Jr.; the Honourable Ian Patches Liburd; Cabinet Secretary, Josephine Huggins, as well as other senior government officials; Michael Morton, the Governor General's Deputy, and other specially invited guests.