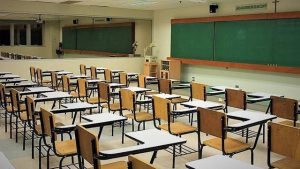 A male teacher freed on molestation charge that allegedly involved a pupil, returned to classes on Monday, after being cleared of any wrongdoing by the Education Ministry.
His return, however, did not sit well with his colleagues who walked off the job on his arrival.
And parents removed their children from the classrooms of the school in south Trinidad.
The alleged incident occurred two years ago, parents said. They said the teacher was arrested and charged with the offence. He was cleared by a Magistrate, however, as the child migrated with her family.
"So because the matter was dismissed and the man is now cleared the Ministry said they have to reinstate him. But we are not accepting that. We are not allowing our children in the same school with this man," a parent said.
The parents staged a protest at outside the school last week, calling for a meeting with Education Minister Anthony Garcia.
Placards were posted on the school fence warning that pupils will not be attending classes as long as the teacher was on the compound.
The parent said, "We continued the protest last week Wednesday but we received a message from the Ministry to hold the protest in good faith. We thought they were dealing with the matter. Now I am being told the man walked into school this morning. The teachers left and we are taking our children home."
A letter was also sent to the Education Minister last Monday asking that the ministry reconsider the decision.
The school's PTA would meet this evening to discuss the next move.
Trinidad and Tobago Unified Teachers Association (TTUTA) president Lynsley Doodhai was unable to comment on the issue as he was in a meeting.