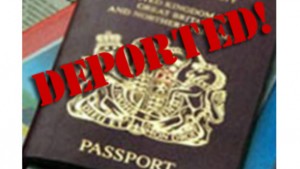 HAMILTON, Bermuda (CMC) — The Bermuda government says seven incarcerated Caribbean nationals have been deported to their home countries after their jail time was cut short and a deal struck with the Royal Bermuda Regiment.
Home Affairs Minister Michael Fahy said their early release was a boost for the Bermuda taxpayer.
The inmates, from Jamaica, Grenada, St Vincent and the Grenadines, Barbados and St Maarten, were flown home on Sunday through a collaboration between the Department of Immigration, the Department of Corrections, the regiment and their local immigration authorities.
The inmates, who were not named, were all scheduled to be released from prison between 2016 and 2020 and had been approved for early release by the Governor, George Fergusson.
"Over the past year, the Department of Immigration has been faced with many challenges regarding the deportation of foreign nationals who have been incarcerated in Bermuda for a range of offences," Fahy said in a statement.
"As a result of recent restrictions imposed by Bermuda's gateway countries, United States, Canada and the United Kingdom, the deportation process has been extremely difficult thereby making it virtually impossible to secure passage through any of the aforementioned countries.
"As a consequence of the information above, the Department of Immigration feverishly explored several options to deport the foreign nationals including, but not limited to, chartering a corporate aircraft for each deportation which had the potential of being extremely costly for the Bermuda government.
"Upon learning that the Royal Bermuda Regiment was planning to hold their annual overseas camp in Kingston, Jamaica, the Department of Immigration capitalised on this opportunity by arranging a deportation exercise led by the Department of Immigration's Compliance Section," he said.
Of the inmates, three had previously been approved for early release, while the early release of the other four was approved last week.
"Between Wednesday and Sunday, the Department of Immigration, in collaboration with Government House, the Attorney-General's Chambers, the Department of Corrections, and the Ministry of National Security worked tirelessly to ensure that the necessary processes and protocols were followed, thereby making it possible to deport a total of seven foreign nationals out of Bermuda," Fahy said.
"This is good news for the (Bermuda) taxpayer as it means that we will no long be paying the incarceration fees and associated costs for these individuals.
"This exercise would not have been possible had it not been for the countless hours of hard work, dedication and collaboration between all agencies involved," he said in the statement.