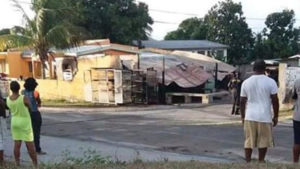 Good morning ,
I woke up this morning to some very very sad news .
A local supermarket business owned by Germaine Brookes burnt down with the loss of a life .
Mr. Gregory Collins lost his life in the fire. Gregory was my neighbor and friend.
He was a decent human being. He had a humble spirit , caring and honest. He was a joyous human being who extracted the best from life.
I want to express my condolences to the Collins family , to the Brookes family , the Douglas community and the whole of St. Peter's .
Let us bind together as a community as we cope with this crisis .
We are a resilient and faithful people and with the help of God, we will make it .