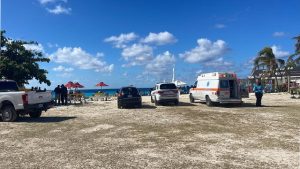 A search-and-rescue operation is now under way off the coast of Grand Turk in the Turks and Caicos Islands after a plane crashed on Tuesday.
Officers of the Royal Turks and Caicos Islands Police Force, along with officials from the Department of Disaster Management and Emergencies, the Fire Department, and Emergency Services are currently engaged in the search-and-rescue operation.
They are being supported by air support from the US Coastguard and Customs and Border Protection.
Preliminary reports received state at 11:40 am on January 3, a call was placed to the 911 Operations Center stating a flight originating from St Kitts with four persons crashed 17 miles south-east of the airport.
Meanwhile, the Turks and Caicos Islands Airports Authority (TCIAA) issued a statement saying that at 11:20 am, a small private aircraft en route from St Kitts to Providenciales with four souls onboard reported difficulties in the vicinity of Grand Turk.
The TCIAA said it activated a response protocol: "At this time our focus is on the safety of the pilot and passengers."
The TCIAA also promised to update the public in a subsequent release once information has been confirmed.