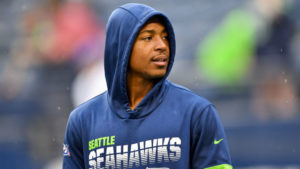 Being a professional athlete opens the door to all types of temptations. But somehow, Seattle Seahawks wide receiver Tyler Lockett has been able to avoid them in the name of his faith.
During a conversation with ESPN's Adam Schefter, the 27-year-old revealed that he's a virgin who is saving himself for marriage. He explained to Schefter that he's been able to maintain his abstinence by having a partner that shares similar values. "I have a girlfriend and she understands what I'm about and loves God as well," Lockett said. "She's cool with being able to wait until marriage. So, for me, as long as somebody understands what they're getting into and respects it, that's all that matters."
Lockett explores the subject in his new poetry book Reflections, which is set to hit shelves on Oct. 15. It will reportedly highlight his battles with mental health and other sensitive topics. Reflections is the cumulation of a passion that Lockett has held close to him since his senior year of high school.
And although he admits that he "never thought" he'd write a poetry book, Lockett hopes that sharing these intimate moments will help others grasp an understanding of themselves. "It really means a lot to me, because I found out that the best way to be able to help somebody is just to talk about yourself," Lockett told The Seattle Times. "If you share your own scars, they'll listen more."