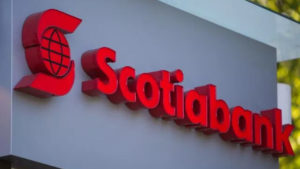 TORONTO — Bank of Nova Scotia on Tuesday reported fourth-quarter earnings which were marginally below expectations and said it planned to exit nine countries in the Caribbean as part of a shake-up of that business.
The bank, which has operated in the Caribbean since 1889, said that it would refocus its business in the region by selling its insurance operations in Jamaica and Trinidad & Tobago to Sagicor Financial Corporation, with whom it will partner to sell insurance products in those countries.
Scotiabank said it planned to sell its banking operations in Anguilla, Antigua, Dominica, Grenada, Guyana, St Kitts & Nevis, St Lucia, St Maarten, St Vincent & the Grenadines to Republic Financial Holdings.
The transactions are not material to Scotiabank, it said, but will result in its core tier 1 capital ratio, a key measure of its financial strength, increasing by 10 basis points when the deals, which are subject to regulatory approvals, close.
The bank reported adjusted earnings per share of $1.77 in the quarter ended Oct. 31, up 8 per cent but marginally below the average forecast by analysts of $1.79 per share, according to IBES data from Refinitiv.
Excluding one-off costs, net income rose by 13 per cent to $2.35 billion, compared with the average estimate by analysts of $2.24 billion, according to IBES data.