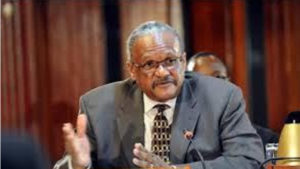 National Security Advisor Major General Stewart Saunders has declared that gang members are not being paid to keep the peace or for turning in illegal guns, they are being paid for legitimate work under an approved government initiative.
"I'm not too sure what they are thinking of when they are talking about paying the gangs. Perhaps I should make it quite clear that as far as this particular initiative that I am responsible for executing is concerned there are no payments being made to gangs, there are no payments for guns and there are no transactions that have not been properly costed and approved. So when people receive payments they are receiving payments for something that has been costed, approved and verified as having been done to a satisfactory standard.
"We developed what was called an Interim Strategy for the reduction of Gang induced violence which was devised by my office in conjunction with the police. We had an interim engagement team put in place and they sought to determine the groups that were involved in wanting to change their lifestyles and behaviors and determine how genuine the requests were. So the strategy provided the guidelines for engaging these groups, it provided a means for dialogue with the stakeholders to establish existing problems, create properly structured legitimate activities geared to change behaviors. They were encouraged to develop and submit proposals, ideas, etcetera, for assistance; we ensured that the submissions were thoroughly examined and approved based upon feasibility.
"Also, it was made clear that there must be a cessation of violence, particularly homicides, there must be no recruitment of youths, into gangs, differences must not be settled by the gun but through dialogue and where resolution is not found amongst themselves the assistance of the police is to be sought. Those were some of the basic things that came out of how we handled this particular matter."
Major General Saunders explained how these at risk individuals become eligible to receive payment.
"When we determined what it was these individuals wanted, their ideas, project proposals and that sort of thing, there's a process that we entered into that basically decided on whether these things were feasible, legitimate or not, those things that were feasible and approved by the initial committee and then sent forward for further approval. A process deals with all of these approved being passed to the Department of People's Empowerment which examines further and approves or rejects.
"People have been entered into agreements to clean up community areas etcetera which have been based on market prices and payments effected after the job has been verified to have been done at a satisfactory standard
"The groups are aware of the fact that the assistance provided is a stepping stone to help in their personal development. They must treat it as an opportunity to develop their own legitimate enterprises going forward as there will be no revolving doors.
"It has been made clear to everyone that there are no monetary handouts to be made to any individual or group Monies paid will be a compensation for legitimate work done."
The National Security Advisor pointed out that the increasing level of gun violence had prompted gang members to seek assistance in establishing a cease fire. He said the government's social intervention initiative is also geared at victims of violence and affected families as part of a more holistic approach to the problem. Major General Saunders said the initiative has seen success, but that there is more work to do with regard maintaining peace and security in the federation.