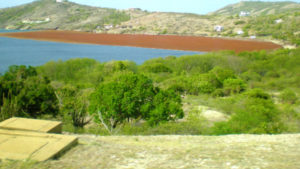 For the second time in recent years, the St. James's Club has been forced to close after losing the battle against the dreaded sargassum weed.
The all-inclusive resort will be closed temporarily from July 1 until October 1. Chairman of the Antigua Hotels and Tourist Association Alex Debrito confirmed the information on Sunday.
An official at the hotel also told our newsroom that guests who are currently staying at the hotel will be transferred to other properties.
In recent days workers reached out to OBSERVER media, lamenting the situation and the impact it would have on their families, the business and the tourism sector on a whole.
One worker said it does not appear "anyone is taking" the situation seriously while he added that the matter has been brought to the attention of the union to ensure the workers are treated fairly during the period of closure.
The Antigua Barbuda Workers Union is said to be dealing with the matter while the hotel works out relocating guests to other resorts under the same management/ownership as St. James.
Coastlines around the country have been overwhelmed with the reddish-brown floating seaweed that washes ashore, covering once pristine beaches and driving away beach users and sea activities with its stench and mass.
Hoteliers, the government and private residents have been working to remove the seaweed, which would only return each day after a successful clean-up.
In an earlier interview, the General Manager of St James's Club, Antione Browne, said that this was the worst invasion that the property has experienced in years.