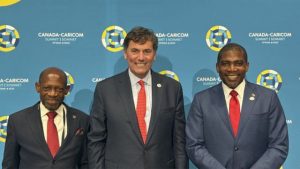 The Federation's Prime Minister and Foreign Minister travelled to the Canadian capital last week to participate in the Canada-CARICOM Summit hosted by Prime Minister Hon. Justin Trudeau. During the week of intense shuttle diplomacy, the Federation's Minister of Foreign Affairs, the Right Hon. Dr. Denzil Douglas, engaged in a series of bilateral meetings that secured a stronger and more stable bilateral relationship between the world's second largest country and the hemisphere's smallest independent country. The Canada-Caricom Summit came as Saint Kitts and Nevis continues to celebrate 40 years of diplomatic relations with Canada.
During the high-level week, the Foreign Minister joined the Honourable Prime Minister on an official visit to Parliament Hill to meet with the newly elected Speaker of the House of Commons, the Honourable Greg Fergus. Speaker Fergus, who is of Caribbean heritage, was most recently elected the Chair of the Canada Caricom Parliamentary Friendship Group in the House of Commons.
Dr Denzil Douglas also had the opportunity to engage with Melanie Joly, Canada's Foreign Minister, Dominic Leblanc, the Minister for Public Safety, Democratic Institutions and Intergovernmental Affairs, Marci Len, the Minister for Women and Gender Affairs and Steven Guilbeault, the Minister for Environment and Climate Change.
As Saint Kitts and Nevis looks to build a strategic partnership for a resilient future the Minster of Foreign Affairs has tasked the Ministry and the High Commission with leveraging the momentum built during the Canada-CARICOM Summit to secure win-win partnerships for joint action in the short, medium and long term to help realize the vision for a Sustainable Island State.