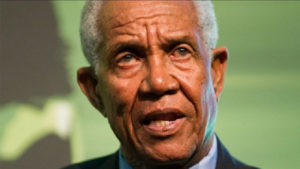 Legendary West Indies all-rounder Gary Sobers does not believe the regional cricket team did enough to hold on to Barbadian-born fast bowler Jofra Archer and must be a little 'sad' to have missed out on such a top prospect.
The 24-year-old was born in Barbados and played youth cricket for the Windies but failed to secure a spot on the youth World Cup team. The player later moved to England before deciding to switch allegiance and represent the country of his father's birth.
Archer made his debut for England at the World Cup earlier this year, after a change in the country's eligibility rules allowed the player to represent England earlier than originally stipulated. The bowler went on to make a major impact at the tournament as England claimed a maiden title. Archer then went on to make his impact felt during the Ashes series.
"We have lost a good one, there's no doubt about that," Sobers told the DailyMail.
"Jofra is an amazing bowler. For him to jump to where he is in the England team already is tremendous. I believe there was an argument as to whether they should play him in the World Cup but eventually they got over that and they must be very happy they did because he has been great for them," he added.
"He started in Barbados and wanted to get in the West Indies team but he didn't get the chance to do that so he went to the best place he could."