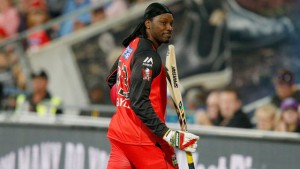 MELBOURNE, Australia (CMC) – Melbourne Renegades have hinted they are not opposed to re-signing superstar West Indies opener Chris Gayle for the new Big Bash season, despite his now infamous "don't blush baby" controversy. The development follows the announcement from Cricket Australia's chief executive, James Sutherland, who said recently that cricket authorities here would not prohibit Gayle from a return to the glitzy Twenty20 showpiece. Gayle sparked a firestorm of controversy earlier this year when he appeared to openly flirt with Channel TEN reporter Mel McLaughlin during a live television interview, during a game against Hobart Hurricanes.
However, despite a $10,000 fine from Renegades, a verbal censure from Cricket Australia and widespread calls for a Big Bash ban, Renegades head coach David Saker said he was unaware of any move to prevent Gayle's return. "We know it was the wrong thing to do and he probably identified that quite quickly. We all did. But I think what happened afterwards was a bit of a beat-up," Saker said. "We really want women in sport and I think in Australia we're embracing that quite well. Mel does a fantastic job with what she does. We know it was wrong, but a lot of people put their two bobs-worth in that probably didn't need to."
In an interview that went viral on all forms of media, Gayle told a stunned McLaughlin: "I wanted to come and have an interview with you as well. That's the reason why I'm here, just to see your eyes for the first time. It's nice so …"Hopefully we can win this game and have a drink after. Don't blush baby." Gayle came under fire from all quarters for his comment and was forced to subsequently apologise. Renegades came under pressure to suspend the player while cricket legend Ian Chappell called for a world-wide ban on contracting Gayle for T20 tournaments. Saker said despite the furore, there had been no discussions about instituting a no-Gayle policy.
"It might have come to our CEO, but not that I know of and I don't think that would happen," he said. "It was the wrong thing to do, but it's not the end of the world, I wouldn't have thought." He added: "To be fair we probably need an overseas bowler though. We're looking at whether to go down that track or to recruit a bowler from inside Australia. So we're going through whether we need to re-sign Chris Gayle.