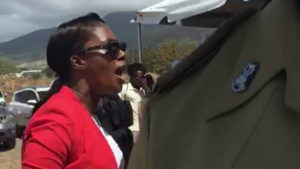 The woman arrested during an opposition party protest at a government ceremony in Ponds Site Thursday morning has been hit with a long list of charges.
Nerys Chiverton was one of several supporters with members of the St. Kitts Nevis Labour Party protesting near a tent where government officials were hosting a ceremony to unveil the 3D design of the proposed new Basseterre High School facility.
Labour MP Marcella Liburd told Freedom FM that after the peaceful protest had ended, Chiverton was one of three persons who remained on the side of the ceremony. She said she received a call informing that Chiverton had been arrested and physically assaulted by a female officer during the process.
MP Liburd told Freedom FM that Chiverton had been detained for approximately 6 hours on Thursday and eventually charged with disorderly conduct, not giving her name to the officer, battery on the officer, obstruction and resisting arrest. She was released on station bail.
Liburd described the incident as totally unacceptable, saying people have the right of protest in this country "whether you like what they're saying or not".
The Police High Command issued a statement on the matter on Friday stating it would "like to dispel the false reports being circulated in the public domain regarding an arrest made at the unveiling ceremony".
According to the statement, a number of protesters present at the event and during the proceedings, officers received reports of noise complaints against one of the protesters.
It read "Police responded and warned the individual on multiple occasions who refused to comply with the orders given. The Police took action to arrest the individual and she resisted. She was subsequently brought under control and taken into custody."