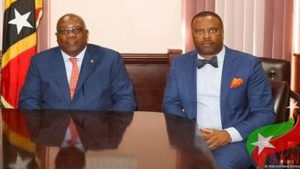 Nevis Premier and federal Foreign Affairs Minister Mark Brantley maintains that despite recent murmurings of infighting between himself and Prime Minister Dr. Timothy Harris over comments the Prime Minister made, there is no rift between them.
"I am not aware that there is any rift," he said during a press conference Thursday.
The Prime Minister was accused of breaching protocol and snubbing the Premier when he visited Nevis to meet with fire officers without informing the Premier. He also commented he had to ensure that monies expended to the Nevis Island administration were not squandered, leading to public debate over what that comment was implying.
Premier Brantley says whatever misunderstanding had occurred between the prime minister and himself had been discussed and settled and there is no resulting contention in the coalition Unity government.
"The Prime Minister and I? I believe we have a good relationship; certainly on my part. I would go so far as to say we have an excellent relationship, whether or not others would want to say something different that's a matter for them, but from my perspective I see no rift.
"I see sometimes in any relationship there are misunderstandings, there are even disagreements but mature leaders discuss these matters, not in the public sphere, not by getting on radio stations seeking to see who could have the best punch lines, but you sit down together and discuss these matters.
"I believe that there are many who would like to see a rift and there are many who would like a rift to develop but I cannot say that I'm aware that there is any rift. Yes, the Prime Minister came to Nevis, yes, I was unaware of the visit and yes he and I have spoken on the matter; that to my mind is what mature people do, that's what leaders do, they have a discussion and they resolve whatever misunderstanding there might have been.
"That is why I say I don't think there is any rift we have from time to time, things on which we have different approaches and we discuss those things as any mature leadership would do, and I'm sure the public would want mature leaders to do- and that is what I have done and why I've resisted. Various radio stations have called me- I'm the most popular person in St. Kitts and Nevis now for an interview- why? Because they want to know what the prime Minister do and wha' he mean by dat. Only one man can answer that, is the Prime Minister, not me.
"My view is we have to do the job and and we have never to lose sight of why we're here, which is to serve the people who elected us- that is what I'm concerned about. So Labour and who want to talk could talk about all they want to talk about they are not going to cause Mark Brantley to cause a rift where there is none, and I make that pellucid."