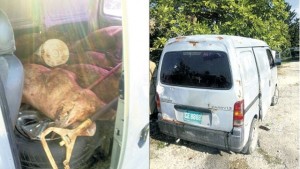 POLICE say thieves are now using sledgehammers to bash in the heads of livestock in what they believe is a new and brutal trend in the multimillion-dollar praedial larceny activity.
According to the cops, the criminals use the gory technique to kill animals more quickly and at the same time suppress squeals that they may make while they are being captured.
Yesterday, police in St Ann said they gathered evidence of the brutal act at the weekend when a van was intercepted in the parish.
The police report that at approximately 1:30 pm on Sunday, cops from the Operation Support Team were in Chalky Hill conducting an operation when a Suzuki minivan with three men aboard was intercepted.
"When we stopped the vehicle and checked, we found the carcasses of eight pigs. The heads of all of the animals were bashed in," said head of the Ocho Rios police Deputy Superintendent Gary McKenzie.
He said when the police stopped the vehicle, two men alighted and were held. The third man, the driver, saw what was happening, drove off, and then abandoned the vehicle on the Steer Town road. The area was searched and the driver found.
McKenzie said in addition to the pigs, a large sledgehammer was found in the vehicle. "It is believed that it was used to hit the pigs in their heads," he said.
"We are currently keeping a close watch on this development because we believe it is a trend," added DSP McKenzie.
He said they believe that the men, who were being processed, are from St Catherine.
McKenzie also said that the registration plates on the vehicle are fraudulent. The men will be charged for stealing the pigs, and the driver will also be charged with breaches of the Road Traffic Act, McKenzie said.
He also said the cops are trying to ascertain whether the men and vehicle were involved in similar and other crimes.
Meanwhile, a pig farmer from Runaway Bay, St Ann, who had reported his eight pigs stolen earlier, has since identified the dead animals.
McKenzie warned that the police will leave no stones unturned in going after criminals who continue to target farms across the island.
Earlier this month, the constabulary's Praedial Larceny Prevention Unit reported a 14 per cent decline in praedial larceny across the island since its launch in March.
Deputy Superintendent of Police Kevin Francis, who heads the unit, told farmers in St Elizabeth that from March 2 to October 5, the consistent and dedicated work of his team resulted in the prosecution of 133 breaches of the Agricultural Produce Act, which yielded 115 convictions, of which 17 matters are still before the court.
The team has also visited 92 farms, disposed of approximately 4,200 pounds of uncertified meats, and have engaged in 54 farmers/stakeholder meetings across the island.
Francis said that more than $5 billion is being lost annually through praedial larceny.