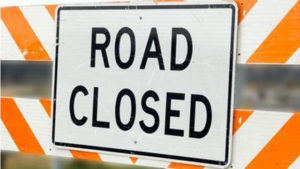 A portion of the Bay Road remains closed to vehicular traffic after rough seas from passing Tropical Storm Karen dumped huge amounts of sand on the busy thoroughfare overnight Monday.
Livingston Pemberton, Engineer with the Public Works Department told Freedom FM that after work crews had cleared sections of the road Tuesday, continued high surf associated with the weather system deposited more sand in the roadway Tuesday.
On Wednesday morning public Work crews were hard at work removing the silt from the vicinity of the public market and passenger buses and other vehicles had to take an alternative route to get into downtown Basseterre.
"Based on the rough seas the federation experienced Tuesday we had deposits of sand in two areas along the Bay Road, in the vicinity of the Newtown Fisheries Complex and along Irishtown in the vicinity of the public market. Both areas would have been cleaned yesterday and vehicular traffic was allowed to flow, however we had another deposit of sand in the same two areas.
"The crews from Public Works were deployed and were successful in clearing the area near the Fisheries and vehicular traffic was allowed to flow freely along that portion of the road, however the crews are presently working in the area of Irishtown to remove the sand and render the road passable once again. There's quite a significant deposit so it will take them a little while to get it all removed.
"We have backhoes, loaders as well as crew with shovels trying to clear the drainage to allow for the free flow of water along the drainage path; so we are appealing to the general public to bear with us as we do our best to get the road cleared as quickly as possible."
St. Kitts continues feel the effects of the system into Wednesday with a forecast of 80 percent chance of showers during the day and a 70 percent chance in the night.