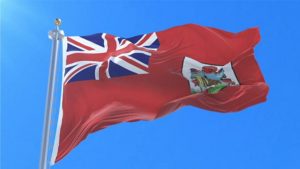 More than 80 per cent of residents now oppose independence for Bermuda, a British Overseas Territory with a population of around 64,000 people, according to results of a new online opinion poll carried by the Royal Gazette newspaper.
The poll, conducted by Narrative Research Bermuda and not commissioned by an outside party, suggested a hardening of attitudes against cutting ties with Britain more than 25 years after a referendum showed almost three-quarters of voters opposed going it alone.
In a sharp increase since the question was last posed in September 2019, 83 per cent now oppose sovereignty, up from 71 per cent then, according to the poll.
Just 10 per cent support independence, down from 23 per cent.
This comes in the wake of Premier David Burt using a visit to London for the funeral of Queen Elizabeth II in September to insist that Bermuda's "next step" was sovereignty.
Cabinet ministers also secretly commissioned a report on self-governance that cost taxpayers US$50,000 and was only revealed at the Throne Speech in November before being made public in December.
The poll found that 70 per cent of people questioned completely opposed sovereignty, while 13 per cent mostly opposed it.
Just three per cent of people said they completely supported independence, with seven per cent stating they mostly supported it. A further seven per cent were unsure on the issue.
The report stated: "Most Bermuda residents continue to oppose Bermuda becoming a sovereign state, with the strength of opposition growing recently.
"Recently, David Burt has made numerous public comments about the possibility of Bermuda becoming a sovereign state.
"There has consistently been a majority of the population that oppose Bermuda as a sovereign state. However, these recent results represent an increase in opposition, particularly those who completely oppose such a move.
"Across demographics, opposition decreases somewhat with age. At the same time, opposition is greater among [minority] white residents, wherein 95 per cent indicate they are either mostly opposed or completely opposed.
"Those with household incomes over $75,000 more commonly report being completely opposed compared with those with lower incomes."
While visiting Britain last autumn the Premier told the British Broadcasting Corporation: "Our next step is certainly to be a sovereign state and whatever form that sovereignty takes will be a matter for discussion on another day but today was a day to reflect on the Queen's life and service."
The opposition One Bermuda Alliance (OBA) — which had one term in office between 2012 and 2017 — has previously accused the Progressive Labour Party government of pushing through the Cannabis Licensing Bill aimed at legalising the consumption and production of the drug in the knowledge London would veto the measure.
The OBA said the PLP used the situation to increase friction with Britain to try to boost support for independence.
The online poll questioned 219 adult residents of Bermuda between November 21 and December 6 last year.
Sir John Swan, who was Premier for 13 years after taking office in 1982, pushed for independence in a 1995 referendum during the now defunct United Bermuda Party's 30-year grip on power, but 74.12 per cent of voters opposed it on a turnout of 58.76 per cent.
Then Opposition Leader Frederick Wade urged PLP supporters to boycott the referendum, saying the party wanted independence on its terms.
Sir John, Bermuda's longest-serving premier, subsequently resigned from politics.