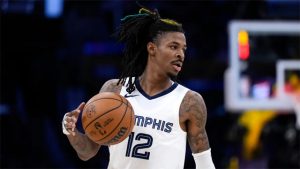 Shelby County Sheriff's deputies say Ja Morant "is fine" after authorities performed a wellness check at the Memphis Grizzlies star guard's home on Wednesday.
The check came after Morant, according to multiple published reports, posted and then deleted messages to his Instagram Stories on Wednesday morning telling various family members he loved them before writing "bye."
A spokesperson for the sheriff's office told CNN, "Shelby County Sheriff's Office deputies checked on Ja Morant at his residence this morning and he is fine. He advised us that he is taking a break from social media."
CNN has reached out to Morant's representatives and the Memphis Grizzlies for comment.
Morant is currently suspended from team activities pending a league review after video surfaced on social media earlier this month appearing to show him flashing a gun while in a vehicle with others. The suspension came just two months after the athlete was previously suspended for eight games over a similar video.
It is not known when or where the more recently surfaced video was filmed.
Last week, Morant issued a statement saying he takes "full accountability" for his actions.
"I know I've disappointed a lot of people who have supported me," Morant said through a spokesperson. "This is a journey and I recognize there is more work to do. My words may not mean much right now, but I take full accountability for my actions. I'm committed to continuing to work on myself."
NBA Commissioner Adam Silver said in an interview with ESPN last week, "We're in the process of investigating (the video). And we'll figure out exactly what happened to the best we can. The video is a bit grainy and all that, but I'm assuming the worst."