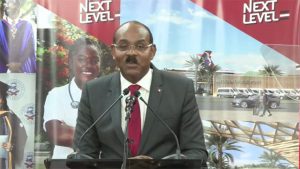 Antigua and Barbuda Prime Minister Gaston Browne says the island seems to be on its own with regard to the establishment of a new company to replace LIAT (1974) Limited which collapsed in 2020.
The Antigua-based LIAT (1974) Limited, entered into administration in July 2020 following increased debt and the impact of the coronavirus (COVID-19) pandemic.
The airline is owned by the governments of Antigua and Barbuda, Barbados, Dominica and St Vincent and the Grenadines. A downsized version of the carrier has been operating a reduced schedule with a limited workforce since November 2020.
But Browne said he now recognises that "Antigua and Barbuda is practically standing alone in terms of having an entity that is owned by a group of governments.
"What seems to be the prevailing thinking at this time is that most heads are of the view that there are sufficient assets within the region. In fact, there is a study that was done by the Caribbean Development Bank as well as the OECS (Organisation of Eastern Caribbean States) and that was the meeting I attended in St Lucia, and the consensus was that there are sufficient assets to service the region."
Browne said that there are "primarily private sector held assets and they don't see the need for the governments to invest in any national airline or regional airline".
Last month, Caribbean Community (CARICOM) leaders ended their 44th regular summit in the Bahamas, nowhere closer to solving the woes being experienced by regional travellers following the collapse of the intra-regional airline, LIAT, in 2020.
"It is an ongoing discussion we have mandated the (Caribbean Development Bank (CDB) to explore and to examine the current challenge that we have and to come up with some recommendations on how we can overcome the travel issue of intra-regional travel," Dominica's Prime Minister Roosevelt Skerrit told reporters.
LIAT, prior to entering into administration had been servicing several regional destinations and has since scaled down its operations and is now servicing Anguilla, Antigua, Barbados, Dominica, Guyana, Grenada, Guadeloupe, Martinique, San Juan Puerto Rico, St Kitts, St Lucia and St Maarten.
In February, the Guyana government said while it has not given a commitment to investing in the cash-strapped regional airline, LIAT, it nonetheless wants to be "part of a solution for regional air transport".
President Dr Irfaan Ali told the Guyana-based online publication Demerara Waves Online News last month that his administration has been approached to help revive the Antigua-based LIAT.
that the governments of Antigua and Barbuda, and St Vincent and the Grenadines have been talking with his administration about a "possible role" in a revived regional carrier.
"They have asked us to be part of a solution. Of course, part of a solution might be looking at investment, looking at the outstanding debts to Guyana," he said noting that countries have not yet decided what form Guyana's assistance would be.
Browne also disclosed that his government would not be entertaining discussions with trade unions here on severance payment to former LIAT workers until other shareholder governments are involved in the talks. The former employees are owed millions of dollars (One EC dollar=US$0.37 cents) in severance and other arrears.
Browne said the local trade union is being unreasonable in calling on his administration to meet 100 per cent of the outstanding payments to the workers.
"Well I suspect down the road if this issue is to be settled there may have to be some collaboration…some joint effort in which to engage all of the shareholding governments because I don't see us entering into any discussion with a union about 100 per cent…"
Browne said last Friday, government provided one million US dollars to LIAT to repair one of the airlines, adding "so you could see the commitment and the commitment for Antigua and Barbuda is helping regional people connect".
In January, the St Lucia government made good on its promise to pay compensation to former employees of the cash-strapped regional airline, with Labour Minister Dr Virginia Albert-Poyotte advising them to use the benefits wisely.
The former local LIAT employees received bond certificates from the government and are cash redeemable and can also be used as collateral to secure loans.