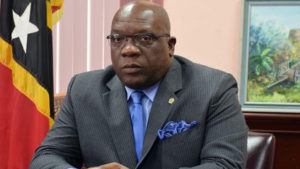 Should the Prime Minister inform the Premier of planned visits to Nevis? That question has again resurfaced after it was alleged that Prime Minister Dr. Timothy Harris' recent sojourn to the sister isle was not communicated to Premier Mark Brantley, and according to political pundits, could be considered a breach of protocol.
Dr. Harris however disagrees, and says he does not need permission from anyone to visit any place in the federation.
"No protocol was ever breached and could ever be breached with a Prime Minister visiting one of the islands, in fact it would be a breach of protocol if it happened in the reverse that the Prime Minister never visited Nevis. A Prime Minister is free like every other citizen and resident to move without hindrance to any area in St. Kitts and Nevis. The Prime Minister is free to visit Gingerland and I do; the Prime Minister is free to attend Culturama in Nevis and I will, so there can't be no breach of protocol because I went to Nevis. I went to Nevis because I think fondly of Nevis and I have a role to play there in fact not only did I visit Nevis I had several events and meetings there and I had the privilege of doing so and to be facilitated appropriately."
Explaining the reason for visiting Nevis, he said as Minister of National Security it was part of regular routine to visit "subjects" under his purview and he was there to see about the plight of firemen stationed at the Vance Amory Airport.
Prime Minister Harris said those claiming his actions were breached proper protocol were peddling political mischief aimed at creating discord between himself and Premier Brantley and by extension, the coalition government.
"So there's nothing amiss about except that there are persons with hidden agenda and in their play of nasty politics they want to undermine the Unity family by creating discord. I mean it is utter ignorance, utter contempt for the intelligence of people for someone to even insinuate that the Prime Minister visiting an institution which falls under his responsibility was a breach of protocol. For anyone to insinuate that the Prime Minister could not of his own free will and volition event without an invitation from the fire officers, visit them?
"So this is just mischief and we must dismiss it as this. So you see, those who have nothing of substance with which to come against the government would clutch at straws. They are like empty vessels making noises because they want to create discord within the Unity Family."
One such person who had expressed concern about the alleged breach of protocol was former senior Customs officer Terry Adams, speaking on the radio show Operating Room hosted by Dwyer Astaphan.
"What caught my attention is the Premier of Nevis was nowhere to be seen when the Prime Minister was addressing the men and women of the Fire Services, and I ask myself why. Logic must play out here. The Premier if Nevis is responsible for the NIA and if the Prime Minister is going across it calls for protocol, good governance to let the Premier know that you're coming across, and it's only cause for good reasoning 'accompany me, I'm going to talk to the firemen because what I'm hearing I don't like to hear it and what I'm seeing it's not pleasant', but that appeared not to have happened.
"I read something and it appears as though there is a war of words that is going on. it is alleged that it was put out Mr. Brantley and it goes like this "There is nothing as ugly or destructive as the human frailty of insecurity if you are confident in who you are and what you do then there is no need for fear of any man."