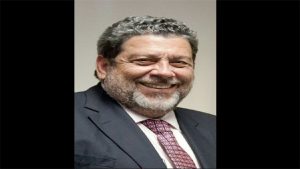 Prime Minister Dr Ralph Gonsalves said his decision not to implement a Citizenship by Investment (CBI) program in St Vincent and the Grenadines was justified by the news that the United Kingdom and European Union are cracking down on countries that sell their passports.
In an interview with the state-run Agency For Public Information (API) today, Gonsalves said he had foreseen this as an unsustainable policy to earn revenue from the beginning.
Look, those who didn't see it, and who wanted to base an economic strategy on that, like the opposition in St Vincent and the Grenadines, they now get their comeuppance. It's your how mature judgment brought to bear when I say this thing is not sustainable. You can't base your economic development on this. You can't finance budget on these kinds of monies," he stated.
The United Kingdom recently removed Dominica and Vanuatu passport holders from its list of visa-free countries due to concerns about undesirable people gaining entry to British soil using their purchased citizenship.
The UK indicated that by the end of 2023, St Lucia, Grenada, Antigua and Barbuda and St Kitts and Nevis passport holders would also need a visa if they don't end their CBI programs.
The EU Commission plans to follow suit by removing those countries from the Schengen Visa waiver program.
Representatives from the CBI Caribbean countries recently met with EU officials in Brussels, Belgium to discuss the matter.
Following the meeting, Gonsalves stated that one of his regional colleagues told him that "it's the end of the road" as the EU's impending crackdown is stricter than the UK's.
Gonsalves highlighted that removing the CBI will significantly shock the countries that are members of the Eastern Caribbean Currency Union (ECCU) along with St Vincent and the Grenadines.
The prime minister said St Lucia, Grenada, Antigua and Barbuda and St Kitts and Nevis now have to find new ways to pay for their recurrent expenditure and earn foreign exchange.
He said ECCU countries have agreed to work together during a transition period "to help to lessen the burden of suffering".