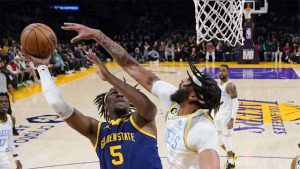 It was hailing outside Crypto.com Arena on Thursday, nasty pellets pouring from the sky, pounding the pavement in tiny countless explosions.
Inside, the Lakers were louder.
It was bone chilly outside Cyrpto.com Arena, fans huddled in scarves and ski caps as if they were attending a mid-February basketball game in the frigid Midwest.
Inside, the Lakers reminded them that this is still Hollywood.
LeBron James throwing down a massive alley-oop dunk from Dennis Schroder. Malik Beasley swishing a three-pointer after a blocked shot by Anthony Davis. Jarred Vanderbilt muscling in a dunk off a bounce pass from Davis.
Austin Reaves sprinting down to a breakaway two-handed dunk. Twice. In the same game.
Later, after he came back to earth, Reaves grinned.
"The energy around the group is at an all-time high," he said.
A new energy. A new attitude. A new hope.
Twenty-two games remaining, and this left-for-dead team suddenly looks like a playoff team.
Twenty-two games remaining, and it feels like the season is just getting started.
Taking their first steps Thursday in this final sprint toward spring, the Lakers ran all over the short-handed Golden State Warriors in a way that made one think they might have made the ultimate transaction at last week's deadline.
They didn't just trade players, they traded a culture.
The most compelling number wasn't the huge margin in a 124-111 victory over a team without Steph Curry or Andrew Wiggins. More vivid digits were found elsewhere in a Lakers squad that suddenly feels balanced, plays focused, and exudes joy.
"All we want to do is go out and have fun," said Davis.
They won by 13, yet James and Davis combined for just eight baskets.
They played hard for two-and-a-half hours, yet neither James nor Davis was on the court for more than 26 minutes.
They shared the ball, shared the glory. A dozen players scored, yet new playmaker D'Angelo Russell only played nine minutes after spraining an ankle that doesn't appear serious.
"We've got so many threats," said new shooter Beasley, who led the Lakers with 25 points. "We're deep. That's the statement we're going to make. If it's not going to be one player, it's going to be another player."
Beasley was asked to describe the energy outlined by Reeves.
"I would describe it as great … immaculate," he said. "Even though we're in a tough position right now, we kind of made a statement tonight that we're ready to make this playoff push and do what we got to do."
An immaculate push is required. The Lakers entered the night in 13th place in the Western Conference and little room for error if they want to avoid getting shut out of the postseason for a second consecutive year.
They needed to win at least 15 of those last 23. A month ago, it would have been an impossible task. Yet in the blink of an afternoon last week, everything changed.
With the departure of the troublesome Russell Westbrook and the ornery Patrick Beverley, a shroud had been lifted from the locker room.
With the addition of Beasley, Russell, Vanderbilt and Mo Bamba — a 7-footer who had two three-pointers against Golden State — a new balance was brought to the court.
Last week they won their first game as an entirely rebuilt team in an 18-point blowout of short-handed New Orleans. This ensuing rout of Golden State gives them two of their most one-sided wins of the season in consecutive games.
And now, anything is possible. In fact, if you believe Thursday night, everything is possible.
"We feel really good about where we are," said coach Darvin Ham. "We feel great about the outlook moving forward."
There is evidence that his rosy outlook is not misguided.
With only three back-to-back games remaining on the schedule — and two of the three occurring with the second teams being beatable Oklahoma City and Houston — they might not have to test the balky health of James and Davis.
With seven of the last nine games against struggling Chicago, Minnesota, Houston and Utah, they could easily finish strong.
With 12 of the 22 remaining games at home — including their final two games — they could ride the wave of a rejuvenated crowd.
Plus, no more bickering. No more whining. The new guys don't just engage, they enhance.
"We don't have time to be upset or fight ourselves within," said Davis. "We've got to be able to go out and win basketball games."
For once, and for maybe the first time in two seasons, they will be winning them together.
"Us having fun playing the right way, playing defense, making the right play offensively," said Davis. "When you're winning basketball games, it's always fun."
Earlier this week, Davis said "each game is must-win game for us."
He then acted like it Thursday by grabbing a dozen rebounds even though he took only five shots. He kept finding Beasley all over the court in a new relationship that he compared to one he had with Kentavious Caldwell-Pope. You know, back when they last won a championship in 2020.
"Having a piece like that, able to space the floor, definitely helps us a lot," Davis said of Beasley.
James didn't speak after the game, but something he said earlier this week about this final stretch still resonated.
"It's 23 of the most important games of my career for a regular season," he said.
One down, spring coming, hope alive.