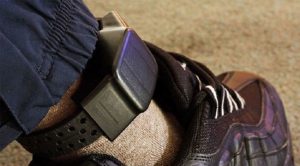 National Security Minister Robert Montague says electronic monitoring is to be introduced for persons who are the subject of restraining orders.
He says his Ministry is in discussion with a supplier to procure the equipment.
Montague explained that once the Restraining Order is executed against a perpetrator, that person will be fitted with the electronic bracelet, while the victim will be given a transponder.
"If that person comes within the limit of 100 yards from (the victim), the transponder will go off and beep and it will send off a signal to the (monitoring) centre, which will call the perpetrator and tell him to step back," he said.
The same technology will also be used for those persons who are on bail and those on early release from prison.
"Up to March this year, some 143 persons who were on bail were also charged for murder while being on bail. We're going to enter into some discussions with the Ministry of Justice that, for some categories of crimes, the persons on bail should wear an electronic bracelet as a condition of their bail," Montague said.
He made the comments as he addressed the recent signing of a Memorandum of Understanding (MOU) by his Ministry, the Jamaica Constabulary Force (JCF) and the University of the West Indies (UWI), Mona campus, to have more police recruits trained by the institution.
The Minister indicated that about 400 members of the JCF have been trained in domestic violence prevention.